We all get itchy sometimes and it's the same for your dog. The odd itch now and again is a normal part of life. In fact, when you just mention the word itchy it can trigger a desire to scratch an imaginary itch. Are you feeling itchy yet?
In this article, we are going to review a selection of the best dog shampoo for itchy skin. In reviewing the best dog shampoos for itchy skin it is worth noting that there is no one shampoo that will work for every dog. Just like people every dog is different. In some cases, your dog might be more sensitive or allergic to one of the natural ingredients in the shampoo. Some shampoos work great on some dogs and unfortunately not on others. We have outlined our selection of the top-rated dog shampoos below.
Before that, we are going to explore some of the main reasons your dog itches, look at bathing issues for itchy dogs, and then present our selection of dog shampoos.
Quick Pick - Best Dog Shampoo For Itchy Skin
Below we have listed our top choices for Best Dog Shampoo for Itchy Skin. Further down the page there are more detailed descriptions on each shampoo and we outline the features and the pros and cons of each one.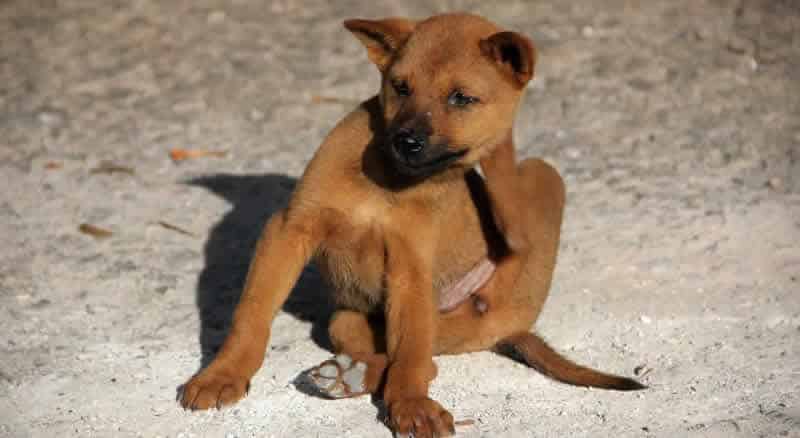 Top Picks: Best 5 Dog Shampoos For Itchy Skin
---
No.1 Earthbath Oatmeal & Aloe Pet Shampoo
---
Earthbath Oatmeal & Aloe Pet Shampoo is a great choice for dog shampoo. It is all-natural, soap-free and pH balanced and comes in a 20 Fl oz bottle
A really good feature is that it will not wash off topical flea applications so if you just treated your dog for fleas you don't have to redo it after a wash with this shampoo. It is also safe for all animals over 6 weeks of age. However, it is recommended not to get this shampoo into your dog's eyes so be careful when rinsing off.
Instructions for use:
– Shake well before using
– On a wet coat lather your pet thoroughly with a few good palm-fulls of the shampoo
– Work lather from head to tail, paying special attention to irritated areas
– Keep out of eyes
– Leave on for at least 90 seconds to allow oatmeal and aloe vera to work their magic.
– Can be diluted ten parts water to one part shampoo if desired.
Ingredients include:
Purified water, colloidal oatmeal (3%), renewable plant-derived and coconut-based cleansers, aloe vera, vitamins A, B, D & E, glycerin, allantoin, food-grade extracts of vanilla and almond, and natural preservatives.


---
.
The Main Reasons Your Dog Itches
When your dog starts itching frequently and becomes noticeable then it's time to find out why your best friend has an itch as there could be some more serious underlying condition that could require veterinary attention. Below we have outlined some of the main reasons your dog itches.
Intense itching and scratching by your dog can lead to the development of hot spots on his body. These hot spots are also known as acute moist dermatitis. A hot spot is essentially an area of your dog's skin that has become inflamed and infected and can cause a lot of discomfort for your pet.
1. Parasites
The most common known parasites to cause your dog to itch are fleas. Fleas are usually the first thing that comes to mind when you see your dog having a good old scratch and itch. It's usually possible to spot fleas on your dog. They are very small dark reddish color insects and they usually are found in the nice warm part of your dog's coat such as his armpits and groin area.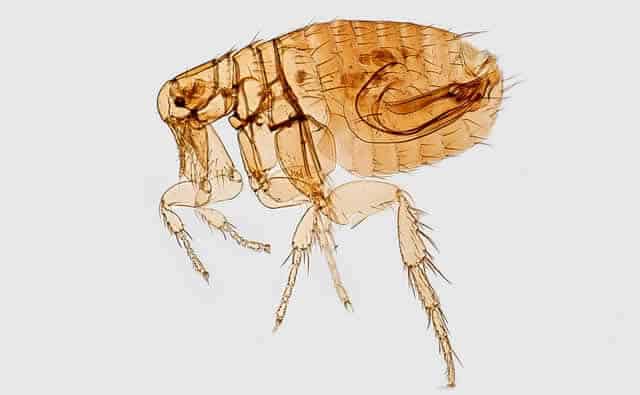 To inspect for fleas simply part the coat with your fingers in the suspected area. You may notice that the skin is irritated and red as it could be inflamed and sometimes there can be hair loss from excessive itching and scratching. Fleas will scatter quickly from the scene and you may see their larvae which have yet to hatch. There may also be flea excrement in your dog's coat. This excrement usually looks like very small black finely ground black pepper grains.
Dogs can pick up fleas almost anywhere. Once a dog is infested with fleas it can cause some serious discomfort. It can lead to hair loss and excess scratching which can cause hot spots. These are areas of the skin where your dog has repeatedly scratched and itched to the point that it becomes inflamed and extremely sore to touch. Veterinary assistance would be required.
It can happen that a dog that is repeatedly exposed to flea infestation can become hypersensitive to even a single flea bite and this can cause complications that will require treatment from your veterinarian. There are many good flea control products on the market right now and next time at your veterinarian you could inquire about them.
2. Eczema in Dogs
Eczema in dogs is more appropriately called Atopic Dermatitis. When your dog inhales airborne particles such as pollen, dust, animal dander, etc it can trigger an allergic reaction which causes your dog to itch, scratch, bite and nibble the skin. Eczema in dogs can be quite stressful for both dog and owner. It is important to note that eczema is not contagious so there is no risk to the doggie parent.
The main signs to look for dog eczema include:
Inflamed red and itchy skin

Skin is very dry and flaky

Skin can be crusty with scabs

The infected area of the skin has a discharge
3. Food Allergies
Just like humans your dog can develop food allergies. If you suspect your dog has a food allergy it is best to consult with your veterinarian. Food allergies in dogs can result in your dog itching intensely, scratching, biting, and nibbling the affected area which can then lead to further secondary infections.
Now the problem with food allergies in dogs that it can be rather difficult to ascertain what causes the allergy. There could possibly be additives in his dog food or treats. Normally your vet would recommend a certain diet and by a process of elimination try to determine what food causes the reaction. It can take many weeks to determine the outcome.
4. Plant Allergies
There are a number of plants that can cause skin allergies in dogs. Sometimes it's the plants' pollen that causes the reaction and other times your dog could get an allergic reaction simply by rubbing up against the plant.
Some indoor plants can also cause allergic reactions in dogs. Some of the main ones include:
Chinese Evergreens, Common Ivy, Cyclamen, , Dumb Canes, Dracaena, Ivy,  Jade Plant, Oleander, Philodendron, Sago Palm, Sprenger's Asparagus,  Zanzibar Gem
For a further list of indoor plants that are poisonous to dogs click here.
5. Yeast Infections
Yeast infections in dogs normally occur in the folds of skin on your dog and his ear canals. Generally, these types of infections can arise with an increase in heat and humidity.
6. Debris in Dog's Coat
Always check your dog's coat to make sure he hasn't picked up any dirt or debris. Sometimes small particles of dirt and debris can attach themselves to his coat and cause irritation.
Conclusion
Our top pick for the best dog shampoo for itchy skin goes to Earthbath Oatmeal & Aloe Pet Shampoo. As this shampoo is all-natural it does not contain any soap and it's pH balanced. It also will not wash off topical flea applications so if you just treated your dog for fleas you don't have to redo it after a wash.
General FAQ
How do you stop a dog from itching?
To stop a dog from itching you will need to firstly find out why he has an itch as it could be a number of issues such as parasites, eczema, food or plant allery. Bathing your dog with a shampoo for itchy skin can help relieve the pain from itching and help with irritated skin.
Do oatmeal shampoo help dogs with itchy skin?
Yes oatmeal shampoo can help dogs with itchy skin as it can help soothe and moisturize the skin. This helps reduce irritation and gives the skin a chance to recover and breathe. It can also help with hot spots and will also leave your dog's coat looking good and shiny.
What is the most common allergy in dogs?
The most common allergy affecting dogs is a flea allergy. Some dogs are extremely sensitive to flea bites and will scratch, bite or even chew their own skin after a flea bite which then causes further infection and irritation.