Well, it's that time again. Yes, time to give your dog a shower. With muddy paws and a dirty coat, there is no other option but to shower your beloved pet. However, as soon as your dog deciphers what's going to happen he runs away and hides. Well, that's what my dog does when it's shower/bath time.
Make Dog Washing Easier
You're not exactly looking forward to this back-breaking task of dog washing where you get soaked and your dog is not happy. There are some solutions available to help deal with this difficult and cumbersome task of showering your pooch. There are now specifically made dog water hose attachments or dog shower-heads available which make this task a much more pleasant and satisfying experience for you both.
In this article, we are going to review a selection of the best dog water hose attachments. In reviewing these attachments or dog shower head sprayers we have selected our top 5 picks below.
Before this detailed review, we are going to go over such topics as how often should you wash your dog, provide some tips on dog washing and some useful equipment to make this task easier, and then go into detail on the various dog water hose attachments.
Quick Pick - Dog Washer Hose Attachments
Below we have listed our top choices for Best Dog Washer Hose Attachments. Further down the page there are more detailed descriptions on each attachment and we outline the features and the pros and cons of each one.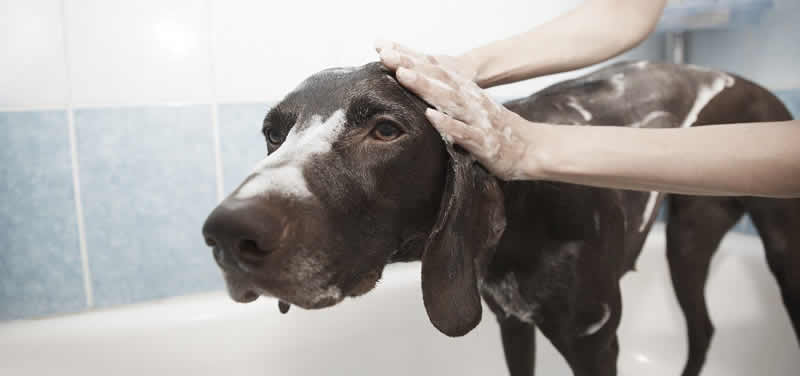 Top Picks: Best 5 Best Dog Washer Hose Attachments
---
No. 1 – Waterpik Pet Wand Pro Shower Sprayer Attachment
---
Our top pick is the Pet Wand PRO Shower Spray Attachment. What I really like about this product is the innovative bathing wand.

Wand with Multiple Water Flow Settings
The wand comes with a rubber grip which gives a firm hold and also has multiple settings for water flow. It also has a water-flow control to allow for one-handed operations which are always great when washing a dog. The wand is powerful to thoroughly rinse the shampoo from your dog's coat with its contoured spray. The short spray is great for those hard-to-reach areas and of course the sensitive parts around the head and ears. The handheld wand is approx 13 inches long and has two rows of holes for the water spray.
Suction Cup / Hook
It also stores conveniently with a suction cup or hook
Hose
The hose is approx 8 feet long.
Adapters
This product comes with the necessary adapters so you can wash your dog in all 3 places:
Bathtub/Shower

Washtub/Sink

Garden hose in the back yard
Lifetime Warranty
The product comes with a lifetime warranty.

The Pros
Innovative wand with a secure handle
Different water flow rates available
Comes with a suction cup or hook
Comes with adapters so can use the spray in multiple settings
Lifetime warranty

The Cons
The hose could be better quality but overall still functional


---
No 2 –  Wondurdog Quality Sink Faucet Pet Wash Kit
---
The Wondurdog Quality Sink Faucet Pet Wash Kit comes from an American company based in Colorado with a good account of customer service.  They have designed a unique and innovative product.
Shower Brush Head with Splash Shield
The Shower Head Brush with rubber teeth gives you the ability to deep clean and massage your dog at the same time. There is an "On/Off" switch on the brush head so that you can start and stop the water conveniently using one hand.
Recoil Shower Hose
There is now a new and updated recoil shower hose that stretches to over 11 feet and recoils to 20 inches. Great when you have to clean the underbelly of your large dog.
Cloth Storage Bag
There is also a cloth drawstring bag included so when not in use you can conveniently store the wash kit.
Adapters
The dog wash kit comes with 5 different adapters.  It attaches to any standard regular-sized faucets which according to the company is approx 90-95% of faucets with a removable aerator. It's not a universal fit and faucet adapter sizes that work are listed below.
Included Faucet Adapter Sizes:
15/16"-27 male thread

55/64"-27 female thread

13/16"-24 female thread

13/16"-27 male thread

3/4"-27 female thread
EASY set up with very clear directions and pictures to guide the user. Comes with spare parts and a very convenient storage bag to stow under the sink.
Dog Wash Kit Includes:
Dog Shower Brush

Shower Hose

3 Way Shower Diverter

Suction Cup Holder

Garden Hose Valve

Plumber's Tape
Installation Video for Wondurdog Wash Kit

The Pros
Quality components
Great for massaging and cleaning at the same time
Innovative Splash shield on the shower head
Good hose length 11 foot
10% Donation to thepetfund on every kit sold



---
No. 3 – Aquapaw Pet Shower Sprayer & Scrubber in-One
---
The Aquapaw Pet Shower Sprayer & Scrubber in-One has a really clever functional design that allows you to easily bathe your dog leaving one free hand.
Sprayer & Scrubber In-One
The sprayer and scrubber in-one feature allows you to loosen any dirt that may be embedded in your dog's coat. Your dog also gets a nice massage
With hypoallergenic dogs sometimes their coats tend to get matted and this scrub will help with tangles. It's a really great feature as you no longer need a separate scrubber.  The sprayer and scrubber in-one frees up one hand so you can either hold your dog secure or else perhaps give soothing rubs. Your dog may fall in love with bath time. Well, there's always hope.
Quicker Wash Times
You may find that the sprayer and scrubber in-one helps speed up washing your dog. This saves time and energy. This shorter wash time will also help reduce the anxiety and stress for those dogs who never want to be washed and will run and hide when it's bath-time.
Button Control
The sprayer also comes with a button that allows you to set it to Low, High, and Turn Off. It's easy to operate with one hand which means you're never fumbling to adjust the water flow or to turn it off.
The low setting gives a lighter spray for sensitive parts of your dog such as the head and ears and the High setting is more powerful to remove any residue shampoo deep down in the coat.
Lifetime Warranty
Lifetime Warranty offered by the manufacturer on original parts and components.
Dog Wash Kit includes
– 8′ Foot Hose (2.6 meters) is soft and flexible and has a diameter of 1/2″(12mm)
– A Shower Adapter & Garden Hose Adapter: Suitable for Indoor and Outdoor Use. Full instructions are available for their installation.
– Hook for easy storage so when not in use it doesn't get in the way.

The Pros
Shower sprayer and scrubber in one which leaves one hand free.
Button control setting with Low setting with gentle spray and High setting with a more powerful spray
Quicker wash times saving on time and energy

The Cons
The adapter made from plastic would be better if brass or chrome


---
No. 4 – SmarterFresh Pet Faucet Sprayer
---
The SmarterFresh Pet Faucet Sprayer comes with a simple attachment called a faucet diverter that connects to your faucet sink allows you to divert water for an easy and effective way to wash your dog.
Lever on Diverter
As the faucet diverter attaches to your sink you can set the appropriate water temperature and once ready the lever on the diverter allows you to divert your sink's water to your hose and pet sprayer.
Shower Spray Functions
There are 3 functions on hand shower with sprayer adjustable for different spray selections. It also includes an on/off setting when you need to reach for the shampoo or when it's time to scrub.
Hose
The hose is a good length at 86 inches which gives you some flexibility when maneuvering around to wash your dog.
High-Quality Components
A stainless steel bidet hose with a PEX inner tube is considered superior to metal and rigid plastic pipes.

The hook holder is 304 stainless steel

The wall mount is made of brass
If there is an issue with its fitting during installation the manufacturer states that they now carry additional adapters to test on your faucet. Always good to hear that manufacturers will look after their customers.

The Pros
High quality components
The sprayer is adjustable for different spray selections
Hose length is 86 inches so good for larger dogs

The Cons
Sprayer handle could have better grips as slippery when wet.
Some users find hose length too long

Water Pressure
There is the ability to adjust the water pressure so for a quick rinse, it's great. The flow rate is 12L/min.
Shower Arm Diverter
Once set up and assembled there is a lever to choose whether you would just like to use the showerhead or the hose. This shower arm diverter is made of top premium brass with a disc cartridge for leak-proofing.
This diverter means that that if you just use the shower-head setting it's like using a normal shower and the hose just hangs on the wall. The hose has a chrome finish with an anti kick and anti winding design.
Push Lever Hand Sprayer
The hand sprayer also has a push lever. For the water to go into the sprayer you press the button and to stop the water you simply let go.  It works the same way as a garden hose nozzle.
Dog Wash Shower Kit includes:
– Shower Arm Diverter
– Hand Shower Wand
– 8-foot Stainless Steel Hose
– Stainless Steel Holder

---
.
How Often Should You Wash Your Dog?
There is no definitive answer to how often you should wash your dog as each dog just like humans is different. There are a number of factors that can influence how often you wash your dog though and they include:
1. Dog's Coat
Some dogs have long coats that can pick up dirt and debris quicker than their short-haired compatriots.  Also, some dogs do not shed any hair and they fall into the hypoallergenic category and may require more frequent washing than their short-haired cousins.
My dog a Kerry Blue Terrier has a non-shed coat and on average I would have to wash him approx every 6 weeks. Sometimes more frequent washes are required especially when he's out in the garden digging or rolling in the grass.
2. Dog's Health
Your dog's health and well-being should also be taken into consideration before you embark on dog washing. If your dog's health is not too good then you must decide if it is worth the stress and strain on your dog. Other times your dog may have an allergy and more frequent washing would be required to help alleviate the problem.  We covered the best shampoos to use on dogs with itchy skin in a previous article.
For example, if your dog just had a bout of diarrhea and wasn't feeling too good then it may be too much for a full shower so you may just opt to clean his underbelly, backside, and paws.
3. Dog Activities
Some dogs have very active lives and enjoy a range of activities outdoors from swimming to hunting etc. Naturally, they would tend to get a lot dirtier quicker than dogs with a sedate lifestyle and may require more frequent washing.
11 Dog Washing Tips
1. Choose Suitable Location
It's important to decide where is the best place to wash your beloved four-legged friend. Some dogs are so small that you can wash them in the sink whereas some dogs are so big that outdoors is the only option available. It really depends on your dog's size and of course weather permitting if done outdoors. It can also be quite messy and usually quite a lot of water ends up outside the bathtub too
The washing location should be free of any distractions that may grab your dog's attention. Having a  dog take a leap out of the outside bathtub after the neighbor's cat is no joke.
I have a medium-sized dog and he fits perfectly in the bathtub while I wash him.
2. Water – Not Too Hot or Cold
Would you like to wash your hair in cold water? Well, last week I had to wash my hair in cold water as our water heater was broken and I can tell you it was one of the quickest hair washes I ever had. Now can you imagine washing your dog in cold water? I certainly would not like it and I'm sure your dog would feel the same. It could also cause him to get a chill and become unwell.
The best water temperature to use is a lukewarm one. It's the goldilocks temperature – not too hot or not too cold but just right for a comfortable and refreshing wash.
3. Never Use Human Shampoo
Never use regular human shampoo on your dog as the ph balance is not good for your dog's skin. It is considered too harsh and could cause problems with skin irritation and lead to a veterinarian visit.
4. Brush Dog's Coat Before Washing
It's always a good idea to brush your dog's coat before the wash. It helps remove any tangles and knots in the coat which makes for an easier wash. It also helps remove any dead hair and your pouch will shed less after the wash.
5. Make Bathing Time Relaxed with Treats
Before washing your dog make sure he is in a relaxed state. Some dogs cannot stand the idea of a bath and will run for the hills when they see what's going to happen.
Sometimes it will be necessary to leave the medicated shampoo in your dog's coat for several minutes so it would be a good idea to have some tasty treats and his favorite toy on hand just in case. It will help reduce any anxiety and stress and make for a more pleasant experience for you both. You could also try using a lick pad.
The lick pad works great to keep your dog occupied. You simply add either wet food, peanut butter or whatever your dog likes onto the pad. The pad sticks to the wall with suction cups and should keep your dog busy licking his favorite treat.
6. Secure & Tether
If your dog is perfectly well behaved and doesn't mind being washed then lucky you. However many dogs will try to escape at the first opportunity so it would be a good idea to tether your dog so that he cannot make a break for it. If this is not possible then try to get someone's help by having them hold your dog while you wash him.
It's also important to secure your dog from a safety perspective as a half-washed dog will suds will slip and slide and could lead to an accident for one or both of you.
7. Have Change of Clothes Available After Wash
It can be quite a mission to wash your dog especially if he is one of the larger breeds. I know of some dog owners that actually get into the bath with their dog.
8. Massage in the Shampoo
Imagine you are washing your own hair now apply the same technique to washing your dog's hair. I would normally massage in the shampoo and leave for a minute or two and I do the same thing with my dog.
9. Wash Your Dog's Head Last
From my experience, I found that as soon as you wet a dog's head they shake their body so I normally leave the head till the very end of the wash. Otherwise, that dog shake will spray water everywhere and you'll be covered in water.
I also place a small damp cloth to cover the dog's eyes so that no shampoo gets in there as some shampoos can sting on contact with eyes. The majority of times you are going to get wet and will need to change your clothes especially when they shake and the excess water goes everywhere.
10. Rinse Thoroughly
It is so important to rinse all the shampoo from your dog's coat. Leaving any residual shampoo in the dog's coat can lead to problems as well as making your dog's coat look dull. For example, it can lead to skin irritation and cause your dog to scratch. The scratching can then lead to infections and all types of skin issues. So please make sure you rinse to avoid any unnecessary problems.
11. Towel Dry
Just like rinsing shampoo from your dog's coat, it is also very important to dry the dog's coat after a wash. Make sure you dry those hard-to-reach spots. Failing to dry your dog's coat can also lead to issues such as da,p spots which lead to irritation and ultimately infected parts of the body.
Considerations Before Buying Water Hose Attachment
1. Ease of Installation
You want a dog water hose attachment that is not difficult to install. You are a dog owner and not a plumber. Well, there are plumber dog owners but let's imagine you are not one of them. Ease of installation is important as if you can't install the attachment in the first place then no dog will be washed.
2. Variable Spray Settings
You want a dog shower hose that has variable spray settings. It makes the job of washing your dog much easier. For example, when spraying you want to adjust the setting so that it is not too powerful and causes water to get into your dog's eyes.
3. Suitable Hose Length
The hose length should be suitable for the location where you are washing your dog.
4. Hook or Holder
It's handy to have a hook or holder where you can place the hose when not in use.
5. Shower Head Design
There are various dog shower head designs available on the market now. These range from showerhead brushes, palm-held shower heads, shower head brushes to showerhead wands.
Conclusion
Our top pick for the best dog water hose attachment goes to Pet Wand PRO Shower Spray Attachment. It has an innovative bathing wand with a rubber grip and multiple settings for the flow of water. And the big bonus is that it also has a water-flow control to allow for the times you just need one hand free.
GENERAL FAQ
Why Do You Need a Dog Washer?
A dog washer will make the task of washing your dog much easier for you and your dog. There are innovative washer designs with different water speed flows, massage heads and convenient handles and good hose length to get to those hard-to-reach spots that make washing dogs easier.
Are dog washer hose attachments durable?
Dog washer hose attachments are durable as they need to be flexible so as to move conveniently around the dog's body. Often these attachments have a massage head that allows you to massage your dog while washing.
Is the dog washer hose attachment suitable for hot & cold water?
Dog washer hose attachments are suitable for both hot and cold water. It is always a good idea to test the water temperature first before soaking your dog. You want to make sure the water is not too hot or too cold when washing. A tepid water temperature is best.