We all need a haircut and or a grooming session at some stage in our lives and it's the same for your dog but in general, they will need it a lot more often. Not because they want to boast to their furry friends at the dog park about their new hairstyle. Dogs need to be groomed so as to maintain their well-being.
Have you ever seen a dog with an unkempt coat full of tangles and matting? It's not a pretty sight and I'm sure you felt sorry for the poor dog. When a dog's coat is not looked after it can lead to all types of problems from skin allergies to infections to flea infestations.
Trips to the dog groomers can be expensive and over time will add up to a small fortune. Investing in a good quality dog clipper would be a good choice for many dog owners as they could save big time in the long run. In this article, we are going to be looking at the best dog clippers for novice groomers, how to deal with dog clipper anxiety, when not to use dog clippers, and some things you should consider before purchasing a clipper.
Article Summary: 5 Best Dog Clippers

Dog Clipper Anxiety?

Tips For Novice Groomers Using the Dog Clipper

Tips Before Using the Dog Clipper

When Not To Use A Dog Clippers
Avoid Clipper Burns

How Often Should You Clean A Clipper?

Considerations Before Buying A Dog Clipper
Top Picks for Dog Clippers
---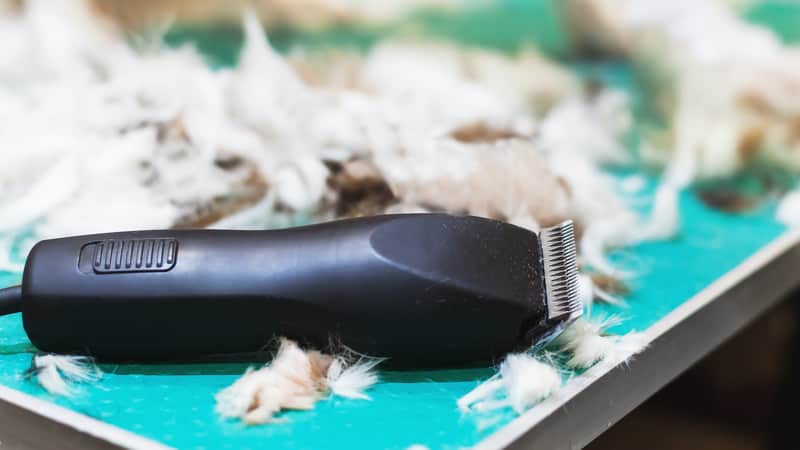 Andis UltraEdge Super 2-Speed Detachable Blade Clipper
---
The Andis UltraEdge Super 2-Speed Detachable Blade Clipper is our top selection for dog clippers. This American-made 2-speed clipper works great on heavy long coats and long curly and tangled hair. It's a detachable blade clipper that comes with a number # 10 blade. This clipper is powerful and with proper care will last for years. Would be a great investment.
Key Features
2 Speed
It has a 2-speed rotary motor to tackle even the densest of dog coats. This clipper can be used by both professionals and novice groomers. Strokes per minute are 34004 & 400 spm
Detachable Blades
You can easily change the blades on this clipper without the need for any tools. There are over 20 blades available from Andis and are all crafted in the USA. The different Andis blades are available for this clipper.
Low Noise
This clipper emits a low noise level and runs quietly – Volts – 120 V
Electrical Cord
This clipper runs on electricity and has a 14′ heavy-duty cord for ease of movement around your dog.
Shatter-proof housing.
Accessories Available
There are add-on comb attachments available from Andis to compliment this clipper to give you a broader range of hair-cut options. These attachments snap on and off easily.

The Pros
Well made powerful dog clipper that works great on heavy dense coats
2 Speed control
Low noise level
USA Company

The Cons
The blade can still get hot during grooming, especially with dense coats so having a substitute blade to switch out could come in handy.


---
No. 2 Oneisall Dog Clipper – Cordless & Rechargeable
---
The Oneisall Dog Clipper – Cordless & Rechargeable is a great choice for a novice groomer. With a low noise cordless dog clipper with a noise level of approx 50 decibels. It also comes with a good quality sharp ceramic upper blade and a stainless steel blade.
Key Features
Low Noise
This clipper operates at a really low noise level approx 50 decibels.
Good Quality Detachable Blade
This clipper comes with an upgraded stainless steel fixed blade and a ceramic moving blade. It's sharp and should last a long time if looked after. You can detachable the blade easily for either changing or cleaning.
Comb Attachments & Accessories
It comes with 6 guard combs to give you the option to leave the hair at varying lengths. The sizes available include 3mm, 6mm, 9mm, 12mm, 15mm, and 18mm. It also comes with a cleaning brush, comb, and scissors.
Rechargeable with LED Display
It comes with a long-lasting Li-ion battery that will last for 130 minutes on a 2.5-hour charge. This should give you plenty of time to trim your dog's coat. The Led display lets you know how much charge is left.

The Pros
Low noise level about 50 decibels
Good sharp clipping blade
Comes with a selection of guard combs and grooming accessories
A long-lasting battery charge of 150 minutes

The Cons
Not as powerful as more expensive clippers but will still perform well.  Will work better on shorter coats
Some users experienced issues with hair getting stuck in blades. I'd recommend washing your dog before using the clippers and make sure the coat is fully dry before clipping. It makes it easier to trim


---
No. 3 – Ceenwes Low Noise Dog Clippers
---
The Ceenwes Low Noise Dog Clippers is a good choice for novice groomers who are looking for low noise dog clippers with an array of grooming accessories from scissors to nail clippers and nail file.
Key Features
Low Noise
This clipper operates at a low noise level of approx 60 decibels so suitable for dogs who don't like loud sounds.
Battery & Cordless
The clipper comes with an AC power adapter charger and requires 5 hours of charging to operate for 70 minutes. It is also cordless which is great when you need to get to those hard-to-reach parts and will not get caught up in the cord.
Blades
The blade that comes with the clipper is a Titanium acute-angle blade combining with the ceramic movable blade for smooth and efficient cutting, the fine-tuning knob offers five levels of length (0.8-2mm)for precise adjustment on hair length
Grooming Accessories
Comes with a selection of grooming tools:
Cleaning Brush,4 × Comb Attachments(3-6-9-12mm),1 × Stainless Steel Scissor,1 × Stainless Steel Comb,1 × Nail Clipper Kit,1 × Nail File

The Pros
Low noise level at approx 60 decibels
Cordless so easy to maneuver the clipper
Comes with lots of grooming accessories

The Cons
Some users had issues with the battery charge not lasting very long
After cleaning some users had difficulty putting the blade back on


---
No. 4 – Yabife Dog Clippers- USB Rechargeable Cordless
---
The Yabife Dog Clippers- USB Rechargeable Cordless is suitable for novice groomers who are looking for a low noise dog clipper with a waterproof design.
Key Features
Low Noise
The clipper is very quiet and operates at less than 60 decibels
Cordless or Cord
You can operate the clipper with or without the charging cord.
Blade & Washable Design
The blade is made of high-end stainless steel and ceramic or can be washed under water tab directly or you can remove the blade and wash
USB Rechargeable
The clipper is rechargeable with USB and has a  lithium-ion battery, can be charged via USB cable anytime and anywhere.
Accessories
It also comes with a stainless steel comb and scissor for hair cutting, a storage bag for convenient carrying, a blade, and a cleaning brush.

The Pros
Low noise
Washable clippers
USB rechargeable and can be used with or without the cord
Comes with a grooming kit that includes scissors, brush, comb and convenient storage bag.

The Cons
Some users experienced issues with hair getting stuck in blades on longer-haired dogs.  I'd recommend using the scissors to trim those longs hairs and possibly wash the coat before trimming.

---
No. 5 – Wahl Professional Arco Dog Clipper
---
If you're looking for a lightweight powerful versatile cordless dog clipper with an adjustable blade offering a range of cutting lengths then the  Wahl Professional Arco Dog Clipper one is for you. Suitable for experienced and novice groomers it's great for small and medium-sized dogs and even for horses!
Key Features
Lightweight & Cordless
This powerful clipper is lightweight coming in at 7.9 ounces and ergonomically designed to fit comfortably into your hand. It's also cordless so great for trimming those hard-to-reach areas where you need to maneuver the clippers into awkward angles.
Blade – Various Cutting Lengths
This blade can be adjusted to varying lengths of hair ( 9, 10, 15, 30 & 40). The blade is also easy to clean.
2 Batteries – Rechargeable
It comes with 2 batteries that are rechargeable. There is a 75 minute charge time to give 80 minutes run time. So while grooming you can always have an extra battery on standby if the grooming session lasts longer than 75 minutes.
Single Speed
It is a single-speed clipper
SPM/RPM: Up to 5,500 strokes per minute
Accessories
This clipper comes with a charging stand and charger along with 4 plastic attachment guide combs. There is also a cleaning brush for the blade and cleaning oil. Alway recommend cleaning the balde after use for maximum efficiency. And there is an instruction book

The Pros
Ergonomically designed & lightweight 7.9 Oz and fits comfortably in your hand
Cordless so easy to maneuver the clipper
Comes with 2 batteries & a charger. The battery lasts 80 minutes on a 75-minute charge
The blade can be adjusted to leave hair at varying lengths so no need for extra blades

The Cons
Some users had an issue with the battery charge lasting


---
Dog Clipper Anxiety?
Are you suffering from dog clipper anxiety? Many dog owners have dog clipper anxiety. Well the good news is that is not a formally recognized condition but it can be treated successfully.
In general, most dog owners are anxious about using the clippers in case they mess things up or hurt their dogs.
Well, the bad news is that you will definitely make a mistake everybody does but with some practice you will learn from these mistakes. The good news is that your dog's hair will grow back. And in no time at all your confidence and proficiency with the dog clipper will grow too.
I started using a dog clipper for the first time at the age of 12. Now at the time, I recall my dog looking great after his grooming session but that was me looking through rose-tinted glasses. However, after using the clippers it does become easier with time. Also, your dog won't mind if you make a mistake in missing a few hairs here or there.
Tips for First-Timers (Novice Groomers) Using the Clipper
Flexible Wrist
Always keep your wrist flexible when using the clipper. The reason behind this is that while using the clippers your dog could move suddenly while you are in full flow thereby trimming an unintended section of the coat.  With a flexible wrist, you can move the clipper away quickly to avoid this situation.
Never Dig Into Skin
Never dig the clippers into your dog's skin as you are liable to cut the skin or there is the possibility that hair will quickly clog the blade. It's important to make sure that the clipper blade is flat against the surface you are clipping.
Always Follow The Grain
Make sure you always clip your dog's hair by following the grain of your dog's hair.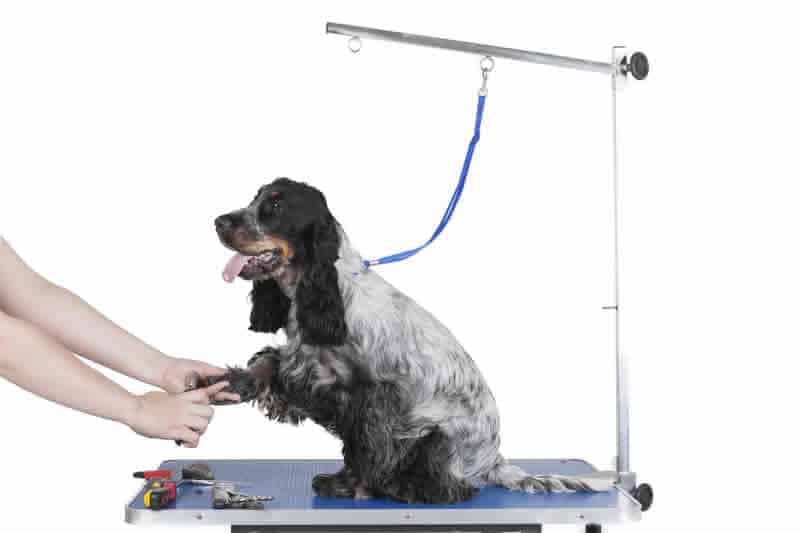 .
Tips Before Using the Dog Clippers
Familiarize your Dog to the Sight & Sound of  theDog Clipper
If you have never trimmed your dog before then the first thing you should do is to familiarize your dog with the sight and sound of the clipper. In more recent years the technology has improved with clippers and they are now much quieter than before. However, they are not completely silent and will have a buzzing vibration sound.
Go For A Walk Before Starting
It's always a good idea to have a walk before starting. Your dog can relieve himself and it will also release any pent-up energy.
Treats & Plenty of Praise
Always have tasty treats on hand. Praise works great on dogs along with lots of encouragement.
Stable Table/Flat Surface
Most professional dog groomers use a grooming table. Your dog's leash is attached to a hook and pole that is connected to the table. This prevents your dog from moving about on the table and reduces the likelihood of any slips or falls.
Dog grooming involves quite a lot of movement and sometimes getting into some very strange angles. A table can help take some of the pressure off your back. If you are constantly leaning over, your back could suffer.
If you do use a table at home to groom it's important to play it safe.
Never a good idea to use a glass table or a narrow table. There is a chance your dog could slip and fall leading to an injury. Make sure the surface of the table is either non-slip or place a non-slip mat there.
While grooming a dog there is quite a bit of movement on your part trying to get to some difficult sections of the dog part so make sure there are no obstacles in your way. You can sometimes be so focused while grooming that you don't notice these things until it's too late.
Helping Hand
It's great to have a helping hand if you are grooming especially when it's clipper time. So if you have a friend or household member to assist that's great news. Have the helper hold your dog's head gently by the sides. and let them talk to your dog. They could even have a few nice treats on hand to provide the necessary distraction while you trim. Also, praise works great too – not for you but for the dog!
You may also want to place a leash on our dog just in case he decides to make a break for it and jump.
Keep Sessions Short
At first, I would recommend very short sessions so that you get used to handling the clippers. Do a little every day until you get accustomed to using the clippers. Never attempt a full day's grooming session on your first few times of clipping. It will end in tears and frustration for both of you.
It can be quite stressful for some users and your dog on the first few times but it will get easier with practice. After all you are giving your dog a "Pet Cut" as opposed to a "Show Cut".  A show cut is reserved for dogs entering dog shows and the coat must be trimmed and groomed in a certain way to highlight the breed characteristics.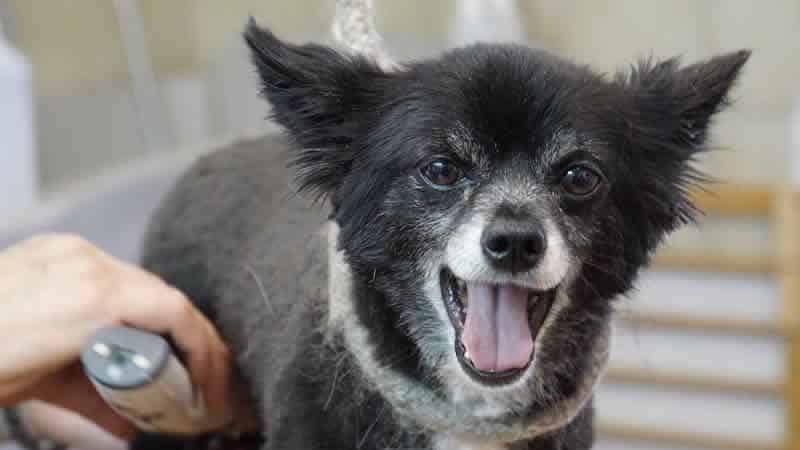 When Not To Use A Dog Clippers
Dog clippers should never be used on dogs with a Double Coat which we describe in further detail below. You only ever use a dog clipper on single-coated dogs.
Dogs have either a single coat or a double coat.
Single Coated Dogs
Single coated dogs do not have a dense undercoat.  This dense undercoat acts as an insulation to keep them warm in winter and cool in the summer. Without this insulation single coat dogs will feel the cold in the winter unlike their cousins with double coats. This is why you may see single-coat dogs wearing dog jackets to keep them warm in the winter months. Dogs with double coats such as Huskies already have their own natural warm coat so there is absolutely no requirement for them to wear another additional one
Most hypoallergenic dogs have single coats and do not shed their hair but of course, there are exceptions such as the Miniature Schnauzer.
Dogs that fall into this category will require haircuts as they are non-shedding. You will get to know the dog groomers very well or else you could always learn to do it yourself and save in the long term.
I know from personal experience as since childhood I've had Kerry Blue Terriers. They have a non-shedding coat and without a regular grooming session, the coat would quickly become tangled and matted.  I quickly learned how to groom and use a dog clipper. All it takes is plenty of practice and determination and of course plenty of patience.
Some hypoallergenic dogs include:
Kerry Blue Terrier, Poodle (Toy, Miniature, Standard & Giant), Aghan Hound, Soft Coated Wheaten Terrier, Bedlington Terrier, Irish Water Spaniel, Portuguese Water Spaniel, Spanish Water Spaniel, Bichon Frise, Miniature & Giant Schnauzer
Source: AKC
Double Coated Dogs
Double Coated dogs, in general, have a soft and dense undercoat. This undercoat is made up of shorts that are woolly in texture. Their function is to keep your dog warm in the winter and they have a cooling effect in the summer. The outer coat is made up of long coarse hair that works to protect your dog in severe weather conditions from rain, wind, and snow.
Although you should never shave a double-coated dog you should still maintain a regular weekly grooming session that takes no more than 10/15 minutes. A good brushing using a slicker brush will remove any of the dead or damaged hairs from the undercoat. Pay particular attention around the neck and back-end as the hair here is denser.
Double-coated dogs shed on average two times a year so around these times you would want to increase the brushing sessions. This will help reduce the amount of shedding and pet hairs in the house which is always a good thing.
Double coated dogs include the following:,
Alaskan Malamute, Akita, Australian Shepherd, Bernese Mountain Dog, Bichon Frise, Cairn Terrier, Chow Chow, German Shepherd, Golden Retriever, Great Pyrenees, Havanese, Keeshond, Labrador Retriever, Miniature Schnauzer, Newfoundland, Old English Sheepdog, Pomeranian, Samoyed, Shetland Sheepdog, Shiba Inu, Shih Tzu, Siberian Husky,  Wire Hair Fox Terrier, Yorkshire Terrier.
Avoid Clipper Burns
Clipper burns normally occur in two ways. Firstly when the blade on the clipper becomes too hot it can cause clipper burns. The other way is when the groomer goes over a sensitive part of the dog too many times with a close cutting blade, usually #10 or #15 blade
To avoid giving your dog clipper burn always check intermittently the blade. If you find it is getting too hot then take a break or else there are commercial cooling sprays that reduce the heat on the blades too.
You must pay attention and
If your dog has sensitive skin then just make sure you are attentive and careful around those sensitive parts.  For some reason, many white-coated dogs can have sensitivity so just be extra careful so as to avoid giving clipper burn.
If your dog does end up with clipper burn you may consult with your veterinarian as to the best way to treat it. For most dogs a normal medicated ointment will work but if in doubt consult your vet.
And the next time, make sure you are more careful using the clippers. Unfortunately, accidents can happen but you can avoid clipper burn.
Can I use Human Clippers on my Dog?
Most groomers would not advise against using human clippers on your dog for a number of reasons.
Firstly human clippers are specifically designed for human hair and not dog hair. Although there are many different types of human hair it's still different compared to dog hair.  Dog hair is also denser, so much more hair to cut.
Next, there is also a difference in the blades as the teeth for a human hair clipper are normally closer together and it would be very difficult to use this type of clipper to go through dog hair. It would end up clogging up the clippers or you could end up pulling the fur on your dog which not be a very pleasant experience for your furry pal and one that would be remembered for the next session.
The motor on human clippers can be quite noisy with more vibrations and no doubt this would be a major distraction and annoyance for your fur baby. They could even want to escape from this dreadful vibration and noise.
In addition dog clippers usually run faster than human hair clippers so you can complete the grooming session in a shorter time.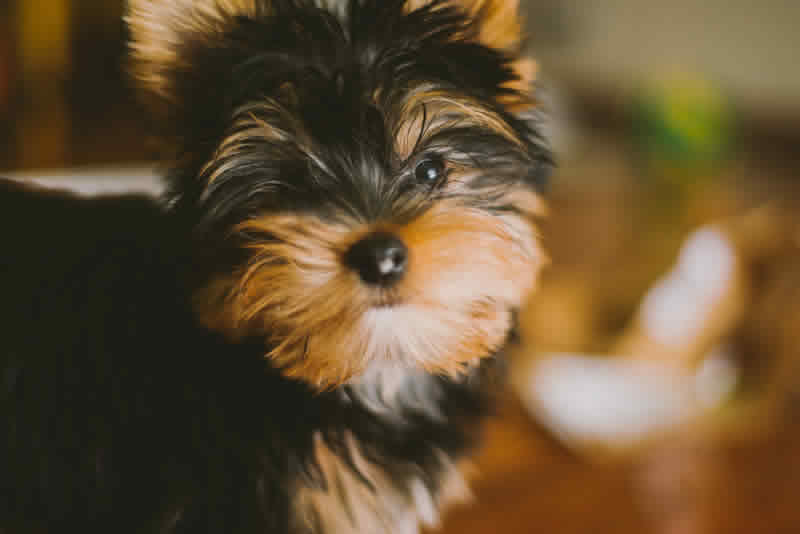 How Often Should You Clean A Clipper?
It's important to stick with and follow all the cleaning instructions for the clipper.
After every grooming session would normally clean down the clipper. Wipe any excess hair from the clippers and then using a small brush wipe away the finer hairs. It's good to do this while holding the clippers in a downward position as it prevents any of those fine hairs from falling into the machine and onto the motor.
There are lubrication oils that will help keep those blades in good condition so this will prolong their sharpness and extend their life.
Considerations Before Buying A Dog Clipper
Single Speed or Variable Speed
Clippers can be divided between single speed and variable speed.
Single Speed
Single-speed dog clippers would suit both professionals and novice groomers. The speed does not change and stays constant. The one big advantage is that the blades on a single-speed clipper do not heat up as fast as a variable speed one.
Variable Speed
Variable speed clippers normally have 2 speeds. In the professional range of dog clippers, there are up to 5 settings. If you're just starting out with absolutely no intention of becoming a professional dog groomer then there is no need for such an advanced clipper but it could work out to be a good long-term investment.
Variable speed clippers are generally more powerful than single-speed and allow you to cut through matted hair much easier on the higher-speed setting. The lower speed setting can be used when you need to tackle areas of the coat with thinner hair such as the tail and ears. Also, the lower setting does not vibrate as strongly so less noise too.
The grooming session will be finished faster with a Variable speed Clipper
Cord or Cordless
The choice is there for either cordless or clippers with a cord. The big advantage of a cordless clipper is that you can take it anywhere making it very convenient and handy when you have the urge to give your furry pal a quick trim.
Another major benefit of a cordless clipper is that there is no cord to get in your way while you groom. You may find yourself in some awkward angles when you first start out as you may need to maneuver into a position to trim the hair. The downside is that the battery will not last more than an hour. Many of the more powerful clippers are electric. I've mostly used clippers with an electric cord.
The Blades
Stainless Steel or Ceramic
Clipper blades are normally either stainless steel or ceramic. They are both non-rust and corrosion-resistant. In general ceramic blades are more expensive and preferred by many professional groomers. The reason is that they do not heat up as fast as stainless steel. Consequently, the groomer can groom more dogs without waiting for the blades to cool
Types of Blades
The different types of blades include fine-tooth blades and skip tooth blades.
With Fine Tooth Blades the teeth of the blade are close together and allow for a smooth and even cut all over. There is normally the letter F on the blade.
The other main type of blade is the Skip Tooth Blade. As the name suggests there is a gap between each tooth of the blade allowing some space. This type of blade works well with blending the hair and for those tough mats and tangles in the coat.
Blade Numbers
There are also different blade numbers. These numbers refer to the length of hair that will be left on your dog's coat. For example, blades with a higher number will leave your dog with a shorter haircut so the higher the blade number the shorter the cut.
In preparing for surgery a vet might use a number 30 or 40 blade which shaves right down to the dog's skin. For a clean sanitary cut most groomers would use a number 10 and when the hair needs to be longer on the coat then a number 3 could be used.
Blade Guards
There are also guards you can place over the blade to ensure you get a different cut size to the blade number. |Just make sure when using a guard over a blade that it is secure and will not fall off as otherwise there is a possibility you will shave much closer and gap the coat.
Check Blade Temperature
One thing to note is that it's important during a grooming session to check that the blades are not getting too hot. If you find that the blades are hot to the touch then take a break. This will give time for the blades to cool.
Blades will heat to varying degrees so you must be careful so as not to cause any discomfort for your fur baby. You want to avoid giving blade burn as it could really turn your furry pal off any future grooming session and you don't want that to happen.
Noise
Choose a dog clippers with a low noise output. As you know dogs hear much better than humans and can hear twice as many frequencies. The good news is that most dog clippers available now have reduced noise levels.
Size/Weight & Shape
The size and weight of the clippers are important factors as you will need to be able to maneuver the clippers into different angles. A lightweight model is easy to manage and use. however, you may feel the vibrations more compared to a heavy-duty clipper.
The shape is also an important consideration. So clipping machines are more rounded and ergonomically designed.
Conclusion
Our overall top pick for best dog hair clippers is the Andis UltraEdge Super 2-Speed Detachable Blade Clipper. This clipper can be used by professionals as well as novice groomers. It works great at tackling tangled hair and is suitable for long-haired dogs and also curly hair too.
If you are on a budget then we would recommend the Ceenwes Low Noise Dog Clippers. It's a great choice for novice groomers who are looking for low noise dog clippers with an array of grooming accessories from scissors to nail clippers and nail file.