Our dogs follow us everywhere and sometimes it can be difficult to tell them they are not coming with us. If you like to ride your bike then you may be familiar with that sad expression when you tell them the news.
The good news is that your fur baby can now go everywhere with you. The Dog Bike Basket allows you to carry safely small breed dogs whenever you set off on your bike. Dogs can now be securely placed on your bicycle and for larger dog breeds who do not want to be left behind try the dog bike leash.
---
Top Picks: Best Bike Dog Basket
---
No 1.   PetSafe Happy Ride Wicker Dog Bike Basket
---
The PetSafe Happy Ride Bicycle Basket is an old-style traditional resin wicker basket. Your fur baby can now be transported safely around town in style and comfort snuggled up in the soft and cozy removable sheepskin lining. Many users raved about its sturdiness and how well made the basket is. They also liked the weather-resistant feature as it now has a removable sunshade. This works great for those hot summer days. There is an adjustable safety leash ensuring there are no accidental falls from the basket while you are out and about on the bike with your fur baby as the passenger. Suitable for pets up to 13 lbs. The company that produces the basket has over 30 years of experience providing reliable dog suitable products.
Key Features
Easy Installation & Secure
It has a unique bracket system that allowing for an easy installation of the basket. When the basket is not required it comes off easily.  The 3-way adjustment on the bracket allows for a good fit on any bicycle. And for safety purposes, it comes with an adjustable safety leash. This ensures there will be no falls from the basket.
Well Made & Comfortable
The basket is well-constructed and made from resin wicker. It's breathable and weather-resistant and for those sunny days, it has a removable sun shield. There is also a removable sheepskin lining so on days where your fur baby needs to feel nice and cozy the sheepskin will do the job. It can be taken out if your pooch doesn't need and the good news is that it is washable so no problem if ever there was a little accident.
Dimensions & Weight
16.5 x 10 x 13 inches & Weighs 5.95 lbs

The Pros
It has a comfortable  removable sheepskin lining
Comes with a safety leash to prevent falls
Makes a great shopping basket too

The Cons
Some users commented that it was heavier and not as stable  as they had anticipated
Some users expected the original wicker but it is resin wicker.


---
No 2.  Anzome Dog Bike Basket
---
The Anzome Dog Bike Basket is both lightweight and sturdy and is constructed with a metal frame and oxford fabric. The good news is that it will fit the majority of bikes as it comes with a quick-release handlebar. However, the handlebars need to be straight as it will not work on curved handlebars. It's suitable to transport pets up to 11 lbs.
Key Features
Lightweight & Durable
The basket is lightweight and fits on any straight bike's handlebars so long as they are straight. It's made with a metal frame and oxford fabric.
Removable & Foldable
The bike basket can be removed quickly and easily with a quick-release handlebar mount. When not in use the basket can be folded away for easy storage.
Waterproof & Easy to Clean
The basket is waterproof so no problem if you leave the basket on the bike during rain. It's also very easy to clean by wiping it down with a cloth.
Dimensions
Length 12.9 " x Width 8.6″ x Height 9.8″
The Pros
Well made, lightweight, and durable with oxford fabric and metal frame
Can be quickly and easily removed
Support weight up to 11 lbs

The Cons
There is no safety leash to ensure your dog does not fall so you will need to attach one for security
Handlebars need to be straight to be installed properly


---
No 3. Travelin K9 Pet-Pilot Wicker MAX – Dog Bike Basket
---
The Travelin K9 Pet-Pilot Wicker MAX – Dog Bike Basket is made from a steel frame with durable and breathable resin wicker to give that traditional basket vibe. It also has the comforts to suits your dog such as a padded floor and a removable wire containment top with integrated sunshade for those hot sunny days.
There is a patented handlebar mount that provides stability while riding your bike. However, it is not compatible with all e-bikes as it claims the handlebar mount clamps have a 2″ space between them and this is not enough to clear the electronics on some e-bikes.
Key Features
Well Made
The basket is made from a steel frame with a resin wicker that resists odors and moisture. There is also a clever latching system so that you can quickly and easily attach or take off the basket or quick and easy basket attachment
Safety
It comes with 2 safety leashes.
Comfortable & Easy to Clean
There is a padded foam floor to provide your dog with a comfortable resting place with a plush black removable liner that can easily be removed for washing.
Thick, padded foam floor | Plush black removable liner – comfortable and washable
Weights & Dimensions
The basket weighs 4.25 lbs with the mount weighing 1.3 lbs & the safety top comes in at an even 1 lb. The padded floor is 13″ x 10″ with the top opening section measuring 14″x 11″ & the inside walls are 9″

The Pros
Well made and durable
Comfortable with padded floor & optional sunshade that can be removed
Patented handlebar mount for stability
Comes with safety attachments

The Cons
Not suitable for some e-bikes


No 4. Pet Carrier Bicycle Basket Bag
---
The Pet Carrier Bicycle Basket Bag is multi-functional and very versatile. It is not just a dog bike basket but also converts to a dog booster seat, dog backpack, and a dog shoulder bag with shoulder straps included and there are storage mesh pockets
It is well made and comes with a quick-release buckle. Your dog will also like its comfortable sheepskin liner and it has a floorboard that can be removed for easy cleaning. Suitable for dogs up to 19 lbs. For security, it has a tether that attaches to your dog's collar or harness and there is a drawstring mesh cover to keep your dog safe.
Key Features
Multi-Functional & Durable
Works as a bike basket, dog backpack, and shoulder bag as it comes with straps. Plenty of room for your dog and can hold weight up to 29 lbs. Made of polyester
Safety
A safety tether attaches to your dog's collar or harness to prevent your dog from jumping out and there is also a drawstring mesh cover that closes for extra security.
Good Ventilation
There is a front mesh window that can be rolled up so there is plenty of air circulating so that your dog does not overheat and your dog can see what's happening.
The bike head stem needs to extend to a minimum of 14″ so that the carrier fits on the front. Also, the handlebars need to be straight and not extend beyond the head tube.
Weight & Dimensions
Weighs 4.16 lbs
The carrier is higher at the back (14.5″) and gradually slopes down to a height of 11.5″.
External Dimensions 11″ x W 12″ x 14.5″ (at back) & 11.5″ (at front)

The Pros
Multi-functional and works as a dog bike basket, dog backpack, and shoulder bag
Comes with safety tethers & also the option of a drawstring mesh cover to keep your dog extra secure
Plenty of room and good circulation of air with mesh front option to roll up

The Cons
Not work on all bikes. The bike head stem needs to extend to a minimum of 14″ so that the carrier fits on the front. Also, the handlebars need to be straight and not extend beyond the head tube.

---
N0 5. Cofit Detachable Bike Basket
---
The Cofit Detachable Bike Basket is multi-functional and works as a bike pet carrier, grocery bag, or picnic bag. It is really convenient as it can easily be removed with a one-push button and when not in use it can be collapsed for easy storage. It's made from an aluminum alloy that is rustproof and with tear-resistant 600D Oxford cloth that has a water-resistant coating making it easy to wipe down and clean. It's suitable for dogs up to 11 lbs.
Key Features
Multi-Functional & Well Made
The dog bike carrier also can work as a standalone shopping bag or a picnic carrier. It is easily detached and has 2  soft sponge handles when you need to either carry your dog or groceries. It is well constructed using rustproof aluminum and tear-resistant oxford cloth. It will not collapse when taken off the bike as there are two U-shaped brackets attached to the inside upper frame of the basket, one on each side to ensure that it supports and maintains the shape of the basket when removed.
Lightweight & Easy to Clean
The carrier is lightweight and easy to wipe down with a cloth to clean.
Works Under These Conditions
The Cofit Detachable Basket will fit bikes that satisfy the following 3 conditions
1. Fits handlebar diameter has to be in the range 0.9″-1.3″ (22 – 32 cm)
2. The distance between handlebar and front tire ≥9.8″ (25 cm)
3. The handlebar and front tube are 90°

The Pros
Multi-functional as a dog bike carrier, shopping bag, or could even be used as a basket for picnics.
Lightweight and easy to clean.

The Cons
It doesn't come with any safety tethers so you would need to secure your dog in case of falls or jumps.
It will not fit all bikes. These conditions are listed above for the carrier to fit your bike.


---
.
.
What Is A Dog Bike Basket?
To describe it in the simplest way it's basically a basket carrier for dogs that can be placed on the front of the bike and sometimes at the rear allowing you to safely and securely transport the fur baby around town or the countryside. It's usually made from strong canvas-type fabric or resin wicker. Clasps on the handlebars secure the basket to the bike.
There should be enough room for your fur baby to turnaround sit and lie down. These carriers have a weight limit so make sure you weigh your pooch if in doubt about his weight. There is usually a leash attachment to give that extra bit of security.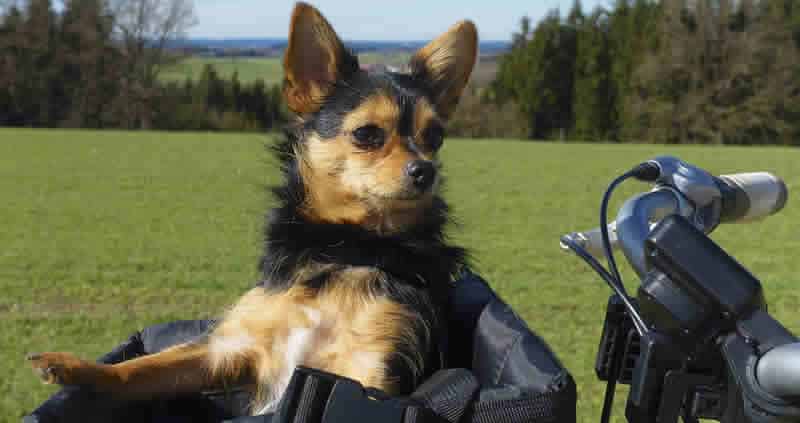 .
Buyers Guide for Dog Bike Basket
What To Consider
Size & Weight of Your Dog
I guess the most important thing to check first is the size of the carrier and will it fit your dog. You don't want a carrier that is too small. Ideally, you will want a carrier that gives your fur baby enough room to turnaround, sit and lie down comfortably without him falling out!
Carriers are only designed for small breed dogs and each product of the products will have a recommended weight limit. Follow these guidelines and if necessary place your pooch on the weighing scales.
Type of Bike
Once you've established that your fur baby is comfortable and secure in the basket you have to consider whether the basket will fit your bike.  Again there is no standard sizing for these carriers and each manufacturer will have different specifications and requirements to fit the bike.  For example, there are carriers that only work on straight handlebars and others that will suit most bikes. Check your bike handlebars before purchasing.
Safety
The dog bike basket needs to be securely attached to your bicycle so that it does not wobble or rub against the front tire.  Also, the basket needs to be high enough so that your dog can't jump or fall out. Check to see if the carrier has a safety tether to make sure your dog secure. Not all carriers have this feature so it is definitely something you should add if it is missing.
Multi-functional
Many of the dog bike baskets are multi-functional. Some are easily detached from the bike and can turn into dog backpacks, shopping bags, picnic baskets, etc
Comfort
It is always nice to travel in comfort and no doubt you want the best for your fur baby. Some of the bike baskets have nice plush sheepskin linings so your dog will travel in style and the comfort he/she deserves! If the basket does not have a similar type of lining then you can always use a small dog blanket but make sure it is not stacked too high or your dog may end up sitting too high and could potentially dangle out of the basket.
Protective Cover for Sun/Rain
Not all bike carriers will have a protective cover. It certainly a nice option to have especially on those hot sunny days. Also, it depends on what part of the country you live in. If you live in Florida then this feature will help protect your pooch from that hot sunshine and perhaps in Seattle from the rain!
Durable
We all want products that last and will not fall apart after a few issues. Check to see what materials are used for the construction. In our selections below some of the products use strong and durable oxford fabric or heavy-duty polyester.
Training Tips For First Time Users
The first order of the day should be a slow introduction to the bike basket. As usual, this is done with heaps of praise, encouragement, and for some dogs perhaps a treat. Sometimes when a new object is introduced into a household for the first time some dogs can naturally be quite suspicious and wary of it. Give your dog plenty of time to investigate and sniff so as to reassure him that this new item will not cause any harm.
After your dog is comfortable with the basket in his presence and no longer feels that it's a threat slowly and carefully place your dog in the basket while it is on the ground. Make your dog sit in the basket and reward with lots of encouragement and praise. Again don't force this. You may need plenty of patience.
When this is accomplished the next step is to place the basket on the bike and safely secure it. When this is complete you can then lift your fur baby into the basket and just let him sit there. Do not cycle yet. You will need to take it nice and slowly especially if you have a sensitive dog. If this carrier has a safety attachment you should use it. Again lots of praise and tasty treats can work wonders.
Go on a very short walk with your bike with your dog in the basket. When you feel your dog is ready then have a short cycle. Stop after a few seconds and reward your dog with praise. It will then be a matter of extending the cycle and before you know it you and your fur baby will be out enjoying a long bike ride.
---
.
Conclusion
Our top pick for the best dog bike basket goes to the PetSafe Happy Ride Bicycle Basket. This old-style traditional resin wicker basket comes with a removable sunshade and a removable sheepskin lining that will ensure your fur baby travels in comfort.