It's so important to keep your dog free of tangles and matting as they can cause discomfort and can ultimately lead to irritations of the skin and possibly even infections. Establishing a brushing routine is important to ensure these things don't happen.
If you have a puppy or young dog then it's great to get them started as soon as possible. They will get used to brushing and there will no need to chase them around the kitchen while half brushed.
In this article, we are going to be reviewing the best slicker brush. The slicker brush has been designed for dogs that have medium to long dense coats including wiry and curly-haired coats.
There are many different types and styles of slicker brushes and they come in all shapes and sizes and weights. There are large-sized curved slicker brushes used on long-coated dogs and small slicker brushes with softer bristles suitable for small breeds with finer coats. The type of your dog's coat will determine the best type of slicker brush for your fur baby. We have chosen a selection that suits different requirements.
Article Summary: 5 Best Slicker Brushes

What is a Slicker Brush?

Benefits of Using a Slicker Brush

How to Use a Slicker Brush

Things To Note When Using A Slicker Brush
The Slicker Brush & Suitable Dog Breeds
Top Picks for Slicker Brushes

---
Top Picks: Best Slicker Brushes
---
No 1.  Hertzko Self Cleaning Slicker Brush
---
The Hertzko Self Cleaning Slicker Brush is one of our top choices for slicker brushes. What we particularly like about this brush is the retractable bristle system that makes cleaning the brush so easy. You simply push the button on the handle and the wire bristles retract leaving the hair on the brush for easy disposal in the trash.
It is also easy to handle as it is lightweight coming in at 3.2 oz and has an ergonomically designed handle for easy grip and control. This brush would be best suited for dogs with denser coats as the wire bristles could irritate thinner coated dogs.
Key Features
Retractable Bristle System
when you first use this slicker brush you will need to push the button on the handle to engage the bristles. You will hear a click and the bristles will be on the surface of the brush. There is no need to hold and keep the button down. When you have finished brushing your dog,  then push the button again and the bristles withdraw so you can easily take the excess hair from the brush and dispose of it in the trash. Makes it so easy to clean and it means the bristle heads are not damaged or broken when trying to clean.
Well Made & Durable
The brush is well made and should withstand good brushing sessions. It has been designed with a comfortable grip and anti-slip handle. This will help as it can become tiring especially if you need to brush a large breed dog – give you a good arm workout.
Many users were happy with the quality of the brush and the wire bristles kept their shape over time and did not bend or break.
Weight & Dimensions
Weighs 3.2 Oz with Dimensions 5.8″x 3″ x 10″

The Pros
Retractable bristle system with a push-button for easy cleaning
Well made and sturdy
Ergonomically designed handle with good grip
Works on both cats and dogs with denser coats.

The Cons
Some users had an issue with the push-button & had to hold it on for bristles to stay open


---
No 2. Glendan Dog Slicker Grooming Brush
---
The Glendan Dog Slicker Grooming Brush has a really good feature which we particularly liked – it can swivel 360 degrees. This makes it easy to maneuver and very convenient to brush those more difficult parts to reach.
This grooming brush would not be classified as a traditional slicker brush as the bristle pins are coated at the tip end. This ensures that the bristles will not scrape or scratch your dog's skin causing discomfort and irritation. With gentle strokes, you could use this on dogs with less dense coats with either short or long hair but again gently does it with no hard pressing against the skin. And it comes with a 90 Day money-back guarantee.
Key Features
Well Made
Well made brush with rubber handle and stainless steel bristles with protective tips at the end
Swivels 360 Degrees
The ability to swivel means that you can easily move the brush into angles and areas of your dog's body to ensure that a thorough brushing occurs.
Anti Slip Handle
The brush has been designed with an anti-slip handle with a comfortable grip.
Specifications
Color: Black & Blue or Black & Pink
Material: Rubber and Stainless steel
Size: Length 6.3″ x Width 3.96″
Brush Pin Length: 0.4″
Handle Length: 3.7″
The Pros
Well made
Anti Slip Handle
Can swivel 360 so very easy to maneuver
90 Day Quality Guarantee – Money Back

The Cons
Not work as well on double-coated dogs or on dogs with very dense coats.


---
No 3. Pet Craft Calming Slicker Grooming Brush
---
The Pet Craft Calming Slicker Grooming Brush is another self-cleaning slicker brush that works really well for your pet grooming needs. The brush has stainless steel pins that are sturdy and strong for the densest and thickest double coats.
Again we like the retracting feature with a push-button that makes it easy to clean up after a grooming session and there is no need to pull out the fur from the brush or mess about with combs and other instruments to collect the fur.
Key Features
Well Made With Strong Bristles
This slicker brush is suitable for double-coated dogs and dogs with dense coats as the stainless steel bristles are strong. We would not recommend this slicker brush for dogs with thin delicate coats as the bristles would be too strong and could cause discomfort on the skin.
Self Cleaning
The brush has a push-button that retracts the bristles. This makes it easy to clean the brush when your grooming session is complete. Very convenient feature as it ensures that the bristles will not be damaged or bent while cleaning ensuring a longer life span for the brush.
Ergonomic Handle
This slicker brush has an ergonomic handle that prevents hand and wrist strain. It is comfortable to grip  and has an anti-slip surface so the brush won't easily slip out of your hand while brushing.

The Pros
Well made with strong bristles to tackle dense double coated dogs
Very easy to clean as you can retract the brustles by using the push button on the handle.
Ergonomic handle with anti slip surface

The Cons
It may be a little too hard for dogs with very sensitive skin


No 4. FURminator Soft Grooming Slicker Brush
---
The FURminator Soft Grooming Slicker Brush is another top pick and this brush has built a good reputation over the last few years. This slicker brush with an ergonomic handle is intended for use on dogs with wiry and silky coats.
If you have a double-coated dog or a dog with a curly, long, or dense coat then FURminator has one for these types of coats too with firmer bristles.
We particularly like the fact that this slicker brush is two-sided – straight bristles on one side with bent bristles on the other side. This dual flex head design allows you to follow the natural contours of your dog's body.
Key Features
Dual Sided Brush
It is a dual-sided brush with bent bristles on one side and straight bristles on the other side.
Ergonomic Handle
The handle is designed to be comfortable to grip and it will not slip out of your hand so easily.
Anti Microbial Plastic
The plastic is anti-microbial so this helps keep germs and other microbes at a minimum.
Product Dimensions
8″ x 2.7 " x 1.5 " & Weighs 5.6 Ounces

The Pros
Dual-sided brush with bent bristles on one side and bent on the other giving you plenty of options for brushing various parts of the body
Well known product with a good reputation
Ergonomic handle

The Cons
Will need to remove fur by hand and some users found it difficult as bristles so close together – might remove them using  a plastic comb

---
N0 5. Paw Brothers Extra Long Hard Pin Slicker
---
If you are looking for an effective slicker brush for double-coated dogs then the Paw Brothers Extra Long Hard Pin Slicker is the slicker brush for you.
Suitable for medium to large-sized dogs with long thick coats, we particularly like the one-inch stainless steel bristles that allow you to penetrate deep into your dog's coat and get to any tangles or knots. With rounded corners, the brush will not catch fur and it is suitable for both professional and novice groomers.
Key Features
Well Made
This slicker brush is well made and sturdy and suitable for use on large breeds dogs with double coats.
Extra Long Bristles (Pins)
The one-inch bristles allow you to penetrate deep into your dog's coat to tackle any tangles or matting effectively.
Grip Handle
The slicker brush has a good grip handle so the brush will not slip and allow you to maneuver the brush easily.

---
.
What Is A Slicker Brush?
A Slicker Brush normally has a rectangular shape made up of small bent metal bristles fitted closely together on a flat surface which is then connected by a handle that can be easily gripped. The bristles or pins on a traditional slicker brush are made from stainless steel. Traditional slicker brushes do not have any protective tip at the end of the bristles.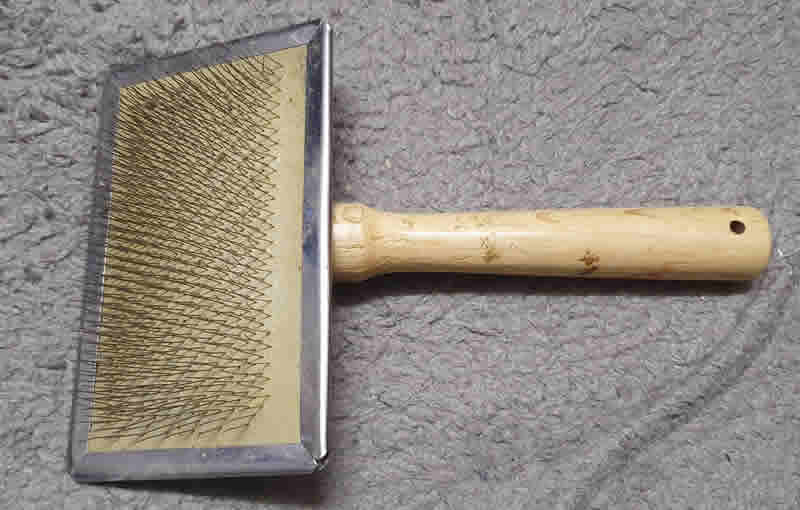 .
Benefits of Using A Slicker Brush
1. Works on Tangles & Matting
A slicker brush works great on tackling tangles and matting in your dog's coat. The wire bristles can loosen the tangles without pulling the hair. It also removes any dirt and debris that may lay hidden in the coat.
2. Helps Reduce Shedding
If you use a slicker brush on a regular basis then it will most definitely reduce the amount of hair your dog sheds.  Any dead or loose hair from the undercoat will be removed and these types of brushes work really well on dense coated dogs.
3. Improves Dog's Coat
The bristles on the slicker brush also massage your dog's skin that can encourage increased blood flow circulation. This can ultimately lead to a better conditioned shiny coat for your fur baby.
4. Healthier Skin
The slicker brush also helps remove any dead skin, dander, and other irritants like grass and pollen. This will leave the skin clear of any buildup that could problems.
5. Relaxing Massage
When used correctly these brushes can be almost like a relaxing massage for your dog.
Some dogs may even learn to enjoy being brushed and can find it relaxing. My previous dog loved to be brushed and would even close his eyes while undergoing grooming. Of course, it's best when there are no tangles or matting in your dog's coat but if you brush regularly and consistently this will not happen. Remember it's best to brush with the grain of the hair and don't dig in with the bristles.
How To Use A Slicker Brush
It is important when using a slicker brush or any brush to go in the direction of the hair growth. Never go against it as it will pull the hair and cause discomfort. You wouldn't like someone pulling your hair either.
Next, use short strokes but make sure they are smooth and gentle. Try to avoid pressing or digging with a slicker brush as it will cause your fur baby discomfort and possible irritation.
Normally start at your dog's head and work your way down to the tail.
When you are using the slicker brush it's worth noting that matting and tangles are usually behind the ears and under the legs. Remember to brush these spots and of course in these sensitive areas always brush gently.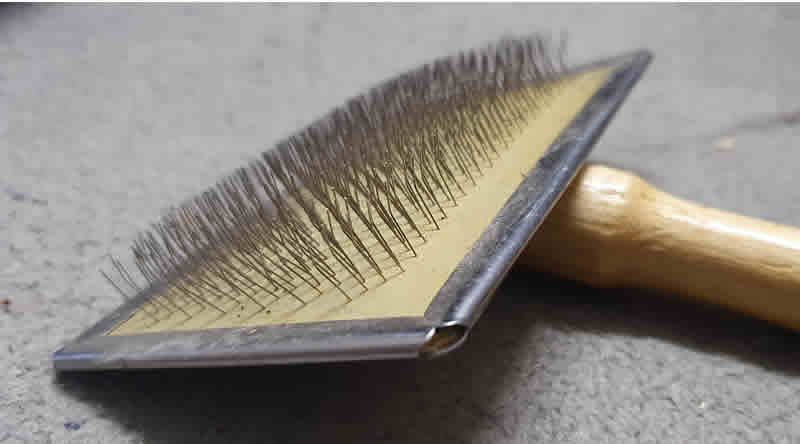 .
Important Things To Note When Using A Slicker Brush
1. Check Your Dog's Skin Before Using A Slicker Brush
Before using a slicker brush it is important to check your dog's skin to make sure there are no lesions or cuts on the skin. A slicker brush can have firm stainless steel bristles which could potentially cause discomfort, irritation or even further inflame any existing lesion or cut on the skin.
2. Avoid Brush Burn
Brush burns from slicker brushes can occur if you apply too much pressure when removing mats from your dog's coat. The site bristles can scrape the dog's skin causing irritation.
Many white-colored dogs tend to have more sensitive skin so just be careful when you brush to be gentle and check every so often. If your dog winches while brushing you should stop and make sure you are not causing discomfort.
Suitable For Medium & Long-Haired Dogs
The Slicker Brush is most suitable for medium and long-haired breeds including wavy and curly-haired dog breeds. I've always used a slicker brush for my Kerry Blue Terrier which would fall into that category as Kerry Blues have a short dense wavy coat that doesn't shed.
The Slicker Brush & Suitable Dog Breeds
There are hundreds of dog breeds and with this large variety, there will be lots of different coat type variations. In choosing to use a slicker brush it is important to know what type of coat your dog has. Normally slicker brushes are best for dogs with double coats such as Siberian Husky and Bernese Mountain Dog or dogs with dense curly or wiry coats such as Poodles and Kerry Blue Terriers.
Dogs with delicate or fine coats would not be suitable for slicker brushes as the bristles would come into contact with the skin as their coats would not be dense enough. On those dog coats, you should consider using a bristle brush or a pin brush.
A Slicker Brush Can Be Used on the following Dog Breeds

Airedale Terrier
Akita
Alaskan Malamute

American Cocker Spaniel

American Water Spaniel

Bearded Collie

Bedlington Terrier

Bernese Mountain Dog

Bichon Frise

Borzoi

Bouvier Des Flandres

Briard

Brittany Spaniel

Cairn Terrier

Chesapeake Bay Retriever

Chow Chow

Clumber Spaniel

Collie Rough-Coated

Dandie Dinmont Terrier
English Cocker Spaniel
English Setter
English Springer Spaniel
Field Spaniel
German Wirehaired Pointer
Golden Retriever
Gordon Setter
Irish Setter
Irish Terrier
Irish Water Spaniel
Irish Wolfhound
Keeshond
Kerry Blue Terrier
Lakeland Terrier
Lhapo Apso
Maltese
Newfoundland
Norwegian Elkhound
Old English Sheepdog
Otterhound
Pomeranian
Poodles
Puli
Saint Bernard
Samoyed
Schnauzer – Giant, Min & Standard
Scottish Deerhound
 Scottish Terrier
Sealyham Terrier
Shetland Sheepdog

Shih Tzu

Siberian Husky

Silky Terrier

Skye Terrier

Tibetan Terrier

Welsh Springer Spaniel

Welsh Terrier

West Highland Terrier

Wheaten Terrier

 Wire Fox Terrier

Yorkshire Terrier

Conclusion
Our overall top pick for the best slicker brush for dogs goes to the Hertzko Self Cleaning Slicker Brush. This lightweight brush has a retractable bristle system and an ergonomic design that makes it easier to groom your dog.