Dog hair comes in a variety of colors and textures and looks great on dogs but not so good when it's on your clothes, bed, carpets, sofa, etc. It can just get about everywhere and can be a right nuisance even for devoted doggie parents.
Removing Dog Hair
Most dogs naturally shed hair and some dogs shed a lot more than others. So if you are looking for a solution to solve the problem of removing dog hair and fur you've come to the right place.
In this article, we are going to be looking at the best dog hair removers available and have included a variety of options from brushes, brooms to handheld vacuums. Please note that the dog hair removers we have chosen we would not recommend using them directly on your dog. We will have a selection available soon for the top dog brushes that will remove dead and damaged hair and fur from your pal.
---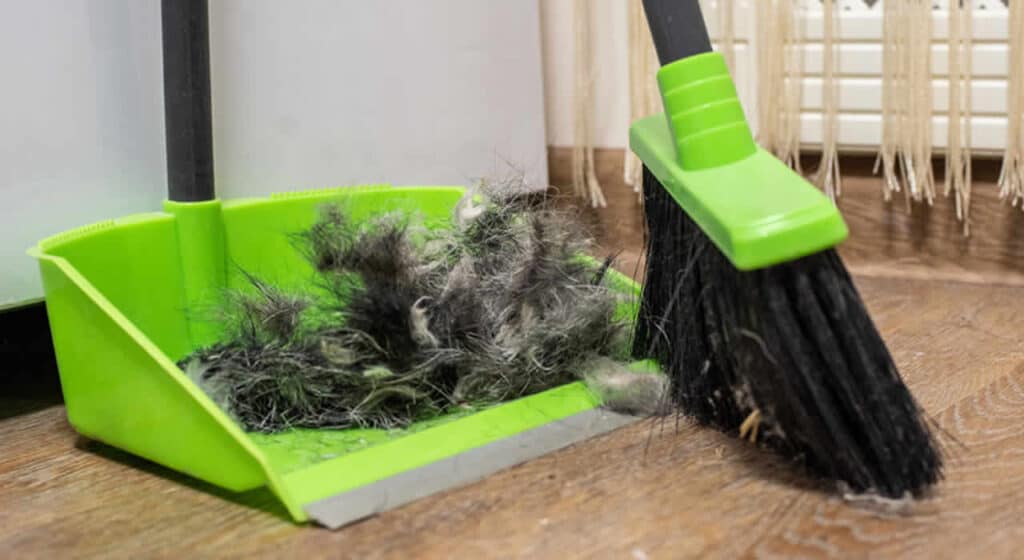 Dog Hair Remover Top Picks
No. 1 – ChomChom Roller Dog Hair Remover
---
The ChomChom Roller Dog Hair Remover is our top pick for dog hair removers. There's no need for batteries or reusable sticky tapes and you can use it anywhere. It's very simple to use with short vigorous back and forth strokes to remove pet hair from beds, sofas, blankets, etc
Features include:
Reusable & Sturdy
It's well made and durable to withstand being rolled back and forth without falling apart.
No Batteries / No Power Source Required
There is no need to buy batteries or use a power source. The ChomChom is a cleverly designed handheld device and the only power source you will need is a good working hand. You might even get a small workout using the device which is either a pro or a con depending on the day you're having!
Easy To Clean
There is a small compartment that stores the collected hair. When you're finished using the device it's easy to take the hair from this compartment and empty it into the receptacle.
Guideline to Use the Chom Chom Correctly
Don't slide the Chom Chom slowly back and forth slowly as it will not work properly. You need to use the brush vigorously with short strokes. Go back and forth several times vigorously. You will hear a clicking type of sound which is perfectly normal for the device. When done you simply open the compartment and empty the hair.

The Pros
Well made and durable
Works well-removing pet hair
Easy to clean
No extra parts required.

The Cons
Some users found it worked better on flat surfaces rather than on clothes
If you have a large area to remove pet hair it could take a long time.


---
No 2 – FuRemover Pet Hair Removal Broom
---
The FuRemover Pet Hair Removal Broom is a specially designed broom with a rubber squeegee that acts like a magnet to pick up pet hair. It works really well on carpets, rugs, hardwood floors, tiled floors and even windows!
Features include:
Well Made & Durable
Well made and durable for use throughout the home from the living room to the bathroom or pool deck.
Multi-Purpose
The broom works on many different types of surfaces to pick up pet hair – wooden floors, vinyl floors, tile floors to carpeted floors.
Fast Drying
The 12-inch squeegee blade can dry a floor quickly. The fast-drying action ensures that there is no spotting and saves you time and effort as you won't need any additional  towels to dry the floor. It can dry concrete or tiled garage and bathroom floors, kitchen surfaces, windows, window panes, car windshields, glass shower doors, or pool deck.
Extendable Broom
A good feature is that the broom extends from 3 ft. to 5 ft. and once it is at the desired length you can lock it firmly in place. This is very handy is you need to clean a larger room as it saves on time and energy. It also saves your back from bending which is always a good thing.
Correct Usage
The bristles on the broom remove pet hair with short sharp strokes.

The Pros
Well made and durable
Multi-Purpose cleaning all types of floors from hardwood to pool decks.
Extendable from 3ft to 5 ft so saves time and your back

The Cons
Not suitable for use on clothes/blankets.


---
No. 3 – Bissell Pet Hair Eraser Handheld Vacuum
---
The Bissell Pet Hair Eraser Handheld Vacuum, Corded is a powerful handheld vacuum that comes with a specialized nozzle designed to attract dog hair, dirt and debris.
Features include:
Lightweight & Compact
It's a lightweight handheld corded vacuum weighing less than 4 lbs with a comfortable easy-grip handle.
It comes with an electrical cord that stretches to 16 feet. It is compact enough to be maneuvered to clean pet hair from even hard to reach areas.
Specialized Nozzles
The vacuum comes with 2 specialized nozzles. One is a specifically designed Rubber Nozzle that attracts hair and removes dirt and debris from stairs and upholstery. The other nozzle is a suction one that works on picking up dry messes such as dog food etc.
Easy to Use / Empty
The handheld vacuum is easy to operate and has a fingertip on/off button. The dirt compartment holds 0.78 liters and it is recommended to empty it after each use in order to maintain suction capacity.
Tech Specs
On the technical side, it has a pleated post-motor filter and a filter screen. Power rating 4 amperes.

The Pros
Lightweight and compact
Specialized rubber nozzle that attracts pet hair and debris
Easy-grip handle
The electrical cord stretches to 16 feet

The Cons
Will eventually need to replace a worn filter in order to maintain the efficiency of the vacuum.


---
No. 4 – Brellavi Reusable Pet Hair Remover Brush
---
The Brellavi Reusable Pet Hair Remover Brush is a very convenient double-sided travel-sized pet hair remover brush that can be taken anywhere to remove pet hair from your clothes.
Features include:
Easy & Convenient
The brush is very easy to use. You sweep it against the direction of the bristles to collect pet hair from your clothes, furniture, blankets, bean bags, etc. There is a small arrow on the handle to tell you which way to brush so it couldn't be any easier.
With no refills or power source needed except your hand, it is a very convenient and mess-free way to remove pet hair.
Reusable
The brush is reusable and does not require any additional parts to replace. It is also double-sided.
Easy to Clean
The brush cleans itself. When you're finished with the cleaning you simply dip the brush inside the base and then take it out. You remove the debris by emptying it into the garbage.

The Pros
Easy to use and to self-clean
The travel-sized brush can be taken anywhere
No power source or batteries required just the use of your hand.

The Cons
For large areas with pet hair not most suitable – it could take you quite some time to cover.

---
No. 5 – Pet Lovers Extra Sticky Lint Roller
---
The PetLovers Extra Sticky Lint Roller is a very effective roller that comes with 4 additional refills that contain 450 spiraled easy-peel paper sheets to pick up pet hair on a variety of surfaces from furniture, floors, tables, car seats, upholstery, etc.
Features include:
Ergonomic Handle
It has an ergonomically designed 360-degree handle which has been contoured to fit comfortably into your hand so it's good to use when trying to get into those hard to reach places.
Peel Off Design
This roller now has an improved peel off design which is diagonally shaped so it's easier to discard the used paper sheet and bring up a new one with no waste.
Works On
Designed with pet hair strength adhesive. it's good for use on curtains, carpets, clothes, upholstery, beds, bags, and even laptops where it helps to pull out that dust and lint in the keyboard.
It says it works on pets too but I believe a dog brush would be more effective because your dog could be seasonal shedding and may end up taking larger clumps of hair using up the sheets faster than planned.
How To Use
The roller is easy to use. When you find that the sticky roller is filled with dog hair and lint you simply peel it off and then dispose of in the trash.  What you need to do next is to carefully align the inner side (a special tough paper and plastic) then roll it up till you end up with a margin that's easy to grip and then pull off the clean sticky roller. Now you're ready to rock & roll again.

---
Why Dog Hair is Important
Dog hair plays a vital role in your dog's general well-being.
1. Provides Protection
Dog hair helps protect your dog's skin. In the summer it helps prevent overexposure to the sun and in the winter it helps keep your furry pal warm and protects him from the wind and rain.
Dog hair can also protect your dog from environmental elements and can help prevent scrapes and cuts
2. Temperature Regulator
Dog hair helps keep your dog's body temperature regulated from exposure to sun and cold.
Factors Affecting Dog Hair Shedding
Dogs shed hair naturally to get rid of dead old or damaged hair.  Humans do the same and if you're lucky enough to have a full head of hair, humans shed about 50 to 100 hair per day. The amount of hair that dogs shed depends on a number of factors.
The Breed
Some dog breeds shed a lot of hair. It's just how they are built and designed. It's sort of like people – some are hairier than others! Anyway getting back to dogs the ones who shed the most are normally dogs with a double coat. When a dog has a double coat it means in basic terms that there is a soft undercoat and an outer coat usually with long coarse hair. Dogs such as Akita, Alaska Husky, Bernese Mountain dogs.
The Season
Generally, dog shedding is more prominent in the spring and fall. In the spring your dog sheds his old winter coat so that she will be wearing a fashionable spring coat which will mean that she is cooler during the spring and summer months. The same thing happens in the fall the summer coat is shed for a more lustrous and warmer winter coat.
Indoor or Outdoor Dog
In general if your dog is an indoors canine then shedding takes place all year round and there are no major seasonal spikes in shedding around spring and the fall but of course, there are always exceptions. Indoor heating and moisture content in the air all play a factor.  Whereas an outdoors dog's coat will adjust to the seasonal changes.
Dog's Health
When your dog is in good health you might often hear people comment on how good their coat looks – it has that healthy sheen and glow. However, when your dog is not feeling so good and has some medical issue it can often be reflected in their coat. It may look dull and you may notice excessive hair shedding. When this occurs it's always best to consult with your veterinarian.
Are there Non-Shed Dogs?
Yes, there are non-shed dogs and people often refer to them as hypoallergenic dogs. Examples include Poodles and Labradoodles. These dogs don't shed in the traditional sense by leaving hairs around the house. The hair normally has to be removed by regular brushing as otherwise there can be a build-up of hair which can then lead to tangles and matting in the dog's coat. Matting is not good for any dog.
I know from experience as I've had Kerry Blue Terriers – a dog that would not shed in the traditional sense but would need regular brushing and grooming.
Buyers Guide for Dog Hair Remover
There are a number of factors you would need to consider when choosing which type of dog hair remover to acquire.
Amount of Dog Hair
The type of dog hair remover you choose will really depend on the amount of dog hair you have to deal with on a daily basis. If you have a small dog who doesn't shed a great amount then a handheld brush or roller can work really well.
However, if you have a number of dogs then a brush or roller will not cut it and you may have to opt for the nuclear option of a pet vacuum. It's more expensive but could prove to be a great investment and may save you in the long so that you can have a dog hair-free zone.
Where is the Shedded Dog Hair?
If you need to remove dog hair from large areas such as the floors and stairs then a small brush or roller will not be enough. It would take you forever and at the end of the day, you would have a bad back. In situations like this then a bigger option such as a pet vacuum or broom would be required.
Difficult To Reach Areas
In those difficult to reach areas, a handheld brush or roller may be the best tool to use. And in an ideal world, you could always ask Santa for a selection of dog hair removers so you have one for all occasions!
Conclusion
Our top pick for the best dog hair remover goes to the ChomChom Roller Dog Hair Remover. It doesn't require batteries or sticky tapes and it's easy to use and can be applied to almost any surface. The hair is stored in a convenient small compartment on the brush and when done it's easy to dispose of the hair and fur. Would be a welcome addition to any home!