Grain-free dog food appears to be everywhere now and it's proving to be a popular choice amongst many dog parents but have you ever asked what is grain-free dog food?
Well, it's not rocket science to say it's dog food without any grains. The most commonly used grains for dog food production traditionally were wheat, rice, and corn.
Why So Popular?
In recent times the appeal of grain-free food for canines has increased greatly. Many owners are now opting for this option. However, what is the reason behind the increased demand? Sometimes you can't give a  definitive answer but a possible reason could be the availability and popularity of gluten-free products. They're everywhere right now.
When there is a new food fad or trend for humans it's inevitable it will cross the species barrier and people start exploring their dog food options too so as to see if their fur babies can benefit too. After all, it's important we look after our dog's dietary needs so getting the best type of dog food is a top priority. 
If you initiate a sudden change to a grain-free diet there could be health implications so always seek a consultation with the vet.
 Summary: Best Grain Free Dog Food

How To Choose The Best Grain Free Dog Food

Reasons People Are Changing To Grain Free

Downsides of Grain Free Dog Food

Frequently Asked Questions
Top Picks For Best Grain Free Dog Food

---
How To Choose The Best Grain-Free Dog Food
It can be quite confusing to select a suitable dog food when faced with such a myriad of choices as there are conflicting reports about which grain-free dog food is the best. No matter which brand you ultimately choose, select one with more protein when compared to food made with grains.
Some brands produce their grain-free options using inferior grain substitutes thereby affecting the dog's well-being. These inferior substitutes can lead to stomach and digestion problems. Many of them contain filler substitutes like potatoes, rice, and legumes.  Although legumes are a  source of protein, they still lack some essential amino acids found in meat.
Make sure you do your homework before you make that decision to select a grain-free diet. Examine all the contents and ensure that Meat makes up the major source of protein in the food.
Why Protein Plays A Vital Role?
The 5 main nutrients in food include Proteins, Fats, Carbohydrates, Vitamins, and Minerals.
Out of these 5 main nutrients, protein is the most filling and gives dogs that full feeling after consuming their meal. The reasons behind this are firstly it reduces the hunger hormone and secondly, it increases the level of the hormone that  gives you that "full feeling."
Protein plays many roles in the body from muscle building and repair, helps repair soft tissue damage and provides the necessary energy to live and function normally, and overall contributes to a vital part of a healthy and balanced diet.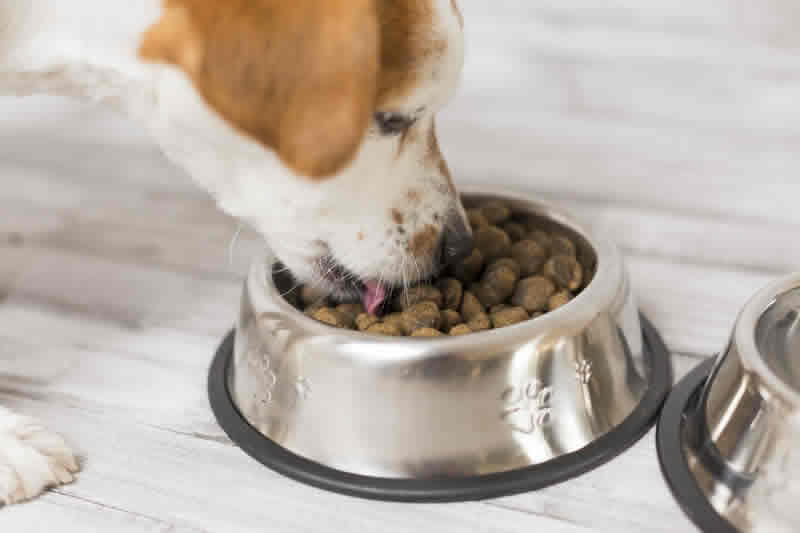 Reasons People Are Changing to Grain Free
Food Allergies
These allergies can be very frustrating both for you and your fur baby. You don't know what's exactly causing this allergy and you will sometimes try anything to help your fur baby. The reasonably good news is the number of dogs affected by food allergies is quite low at around 10% so on most occasions it's not grains causing the issue.
Traditional dog food would have contained grains like wheat, corn, and soy and this has led some owners to believe they could be the source of the allergy.  Consequently, they can end up changing their dog's diet to help get rid of this allergy. Before doing this have a consultation with your vet about food choices.
Recent Dog Food Recalls
Unfortunately, contaminated dog food has made international news when over 70 dogs died when eating grain dog food. This particular grain-based dog food contained unsafe levels of a grain mold called Aflatoxin. This mold grows on corn. This is a by-product of mold and it can grow on grain such as corn.
The manufacturer is Mid Western Pet Foods, Indiana, USA and they recalled the affected brand called Sportsmix and other affected labels.
Naturally, dog parents are worried when a lethal mold grows on the grains within the food and when you hear of nightmare scenarios like this it's no wonder that dog owners will look at alternatives. The FDA has launched an investigation into the contamination.
Helps Manage Weight
Grain-free diets have been known to help dogs lose weight and shed a few extra pounds.
Higher quality grain-free kibble contains more protein than carbohydrates. During digestion, the body will need to burn more energy in order to break down the protein and fat.
Physical Changes
There can sometimes be improvements in the dog's coat with a reduction in hair shedding when dogs are on a grain-free diet.
Downsides of Grain Free Dog Food
When a dog is on a traditional grain diet there's no need to change eating plans so long as he remains well and healthy. You can follow the advice –  Why fix it if it ain't broken? Continue on as you were and if anything changes with your dog's well-being have a consultation with your vet.
Back in 2018, FDA announced it was conducting a study after a food scare that linked grain-free food with a medical condition (DCM) that enlarged dogs' hearts. The FDA examined grain-free dog food containing high amounts of seeds, lentils, and peas and/or potatoes. The following year in 2019 it was established no dietary link between grain-free dog food and this medical condition (DCM) and the advice was not to make any dietary changes.
Frequently Asked Questions
What's The Difference Between Grain and Grain-Free?
Wheat, corn, barley, rice, oatmeal are the most commonly used grains in grain dog food and the main sources of carbohydrates in grain dog food including some vegetables. As grain-free food has none of the above grains or cereals the carbohydrates are derived from potatoes, legumes, lentils, and peas
Are Grains Good For Dogs?
As grains are carbohydrates, they're one of the main sources of energy and fuel for the brain, heart, and central nervous system. Also a fantastic source of fiber, vitamins, and minerals such as iron, magnesium, and selenium. The fiber found in carbohydrates helps with your dog's digestion too and gives that full feeling as well as keeping cholesterol in check.
What is Gluten?
It's a protein that occurs in many types of grains including wheat, barley, rye, and spelt. As mentioned below it is rare to have a gluten intolerant fur baby but it can happen with food made from grains.
Can Dogs Have A Gluten Intolerance?
Yes, dogs can have gluten intolerance but would be considered rare.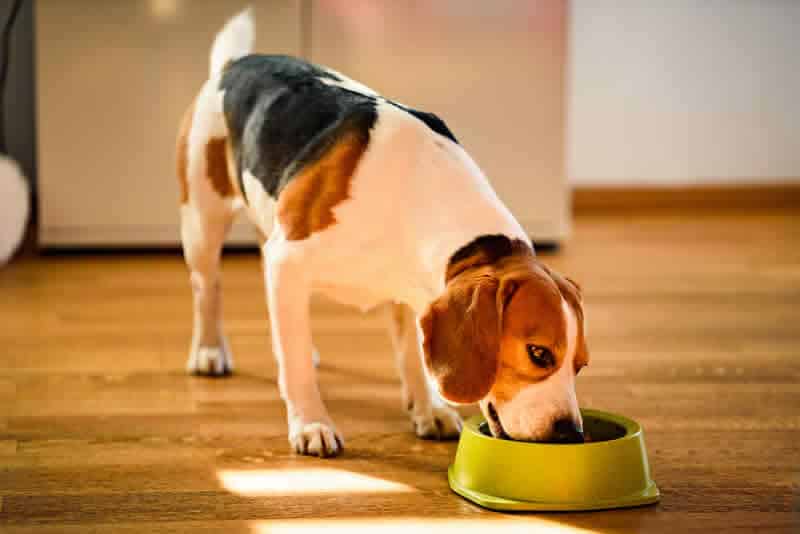 Top Picks: Best Grain Free Dog Food
We've chosen Raw Paws Pet Food for Grain-free dog food in the U.S.A.
---
Raw Paws
If you have looked into raw feeding for your dog or partial raw feeding then Raw Paws could be the source you are looking for. They offer a Grain-free Kibble selection for Dogs.
Raw Paws is an American family-owned company specializing in premium dog and cat food and has been in operation since 2014, providing healthy pet food, treats, chews, and supplements.  Raw Paws sources the highest quality ingredients from ethical farms.
Raw Paws have developed what they call "easy to serve items". One such example is Raw Paw's Grain-free kibble. This could suit dog parents who would prefer to give a partial raw diet rather than complete raw food.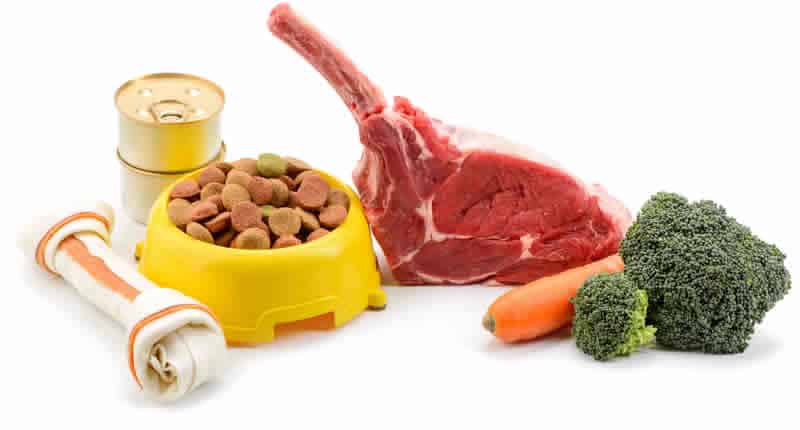 Raw Paws Selection of Premium Grain-Free Kibble
We've chosen the Raw Paws Grain-Free Organic Chicken Kibble to represent the other Grain-Free Kibbles in terms of ingredients and nutritional analysis.
Grain-Free Organic Chicken Kibble
Grain-Free Organic Chicken Kibble Infused with Complete Chicken (Freeze Dried)
This comes in a 5 lb resealable bag and it contains 4 lbs of grain-free organic chicken kibble that is mixed with 1 lb of raw freeze-dried complete chicken pet food.
This grain-free infused raw blend kibble is loaded with essential vitamins and nutrients. It's also full of antioxidants, amino acids, and omega fatty acids.
Raw Paw's chicken kibble and the freeze-dried complete chicken pet food meet the approval standards for Association of American Food Control Officials (AAFCO) for a dog meal that is complete and balanced.
Full Ingredient List

Freeze-Dried Complete Chicken Ingredients:
First comes Ground Chicken with Bone.
Followed by chicken heart, chicken liver, herring oil.
Remaining ingredients include mixed tocopherols, d-alpha-tocopherol
Ingredients of Grain-Free Organic Chicken Kibble:
The first item is Organic Chicken
Followed by Organic Peas, Organic Lentils, and Organic Garbanzo Beans,
Remaining ingredients include organic sweet potatoes – organic canola oil organic sunflower meal – organic canola meal – organic flaxseed – natural flavor – organic pea protein – calcium carbonate –  choline chloride –  taurine organic kelp – vitamin E supplement – iron proteinate – zinc proteinate –  copper proteinate – ferrous sulfate – copper sulfate – potassium iodide – thiamine mononitrate (vitamin B1) –  manganese proteinate – manganous oxide –  ascorbic acid –  vitamin A supplement –  biotin –  niacin – calcium pantothenate – manganese sulfate – sodium selenite – vitamin B6 (pyridoxine hydrochloride) – vitamin B12 supplement – riboflavin – vitamin D supplement – and folic acid.
The first main ingredients on Raw Paws Grain-Free Organic Kibble are organic chicken and organic peas, followed by organic lentils and organic garbanzo.
1. Organic Chicken
Chicken is considered lean meat and it is a great source of protein. It helps build lean muscle and the additional nutrients in chicken such as omega fatty acids help promote healthy skin and shiny coats.
2. Organic Peas
Peas are another great source of protein and dietary fiber and full of essential nutrients like folate, thiamin and manganese. They are also packed with Vitamins A, B, C, and K.
3. Organic Lentils
Not only are lentils full of plant-based protein but they also give that full feeling after a meal due to the high fiber content.
4. Organic Garbanzos
Garbanzos are also more commonly known as chickpeas. As they are full of fiber they help with your dog's digestion and this can help if your dog has any gas issues. Chickpeas also help regulate blood sugar. They also contain Vitamins A, B, and C.
The Pros
American owned and operated.
Premium quality ingredients from ethical farms.
All Organic meats and vegetables

The Cons
If partial raw feeding is not for you then this is not an option.

Conclusion
We recommend Raw Paws for Grain-free Dog Food.  They only source from ethical farms using quality premium ingredients. However, if you want to steer clear of partial raw feeding then this is not the option for you.
Sources