Veganism is growing in popularity throughout the world and in the United States. As a vegan diet excludes meat, dairy, eggs, and any animal by-product ingredient it can prove controversial when a vegan diet is proposed for your dog.
As you may know, there is a raging argument now on-going as to whether dogs are omnivores or carnivores. We're not here to argue on this issue but before changing your dog's diet to a vegan-based diet it is always advisable to have a consultation with your veterinarian. As you know every dog is different and something that works for your fur baby will not work for another. It all depends on your dog's physical makeup, dietary requirements, and if there are any health-related issues for a particular diet.
If you are not looking to make a change to a vegan-based meal plan for your dog but still want to make some adjustments then a vegan dog treat could be the answer.
Vegan treats are healthy and nutritious and can sometimes help dogs that suffer from any allergies or even sensitive stomachs. We have selected our top picks for vegan treats and detailed descriptions of our choices can be found below.
Article Summary: Best Vegan Treats

Benefits of Vegan Treats for Dogs

Reasons to Try Vegan Treats

Buyers Guide For Vegan Treats for your Dog
Homemade Dog Vegan Treats
Top Picks For Best Vegan Treats

---
Top Picks: Best Vegan Treats
---
No. 1 CocoTherapy Maggie's Macaroons Gourmet Treats for Dogs
---
The CocoTherapy Maggie's Macaroons Gourmet Treats for Dogs are vegan and USDA Certified Organic.
We particularly like the fact that the treats are raw and dehydrated at low temperatures to maintain freshness. There is a choice of flavors; Coconut and Vanilla, Coconut and Lemon, and Coconut & Apple.
There are no artificial flavors, preservatives or trans fat in these vegan dog treats and there are approx 20 macaroons per bag and each bag weighs 0.25 lbs
The macarons are soft and will crumble so would be suitable for older dogs who have difficulty biting into hard treats. As they are easily digestible they would be suitable for dogs with sensitive tummies.
They are great as treats or you can also crumble the treats over your dog's meals for a tasty topping. They are packed with good nutrients and vitamins and help support skin and coat health in your dog.  However, if you are looking for a vegan dog treat that will help clean teeth then this one may not be at the top of the list.
Ingredients
Organic coconut/nectar and oil, organic vanilla extract, and organic flax seed
Key Features
USDA Certified Organic with no preservatives, artificial colors, or trans fat.

Choice of flavors

20 macaroons per 4 oz bag.

Soft and crumbles

Easily digestible & suitable for sensitive tummies

The Pros
USDA Certified organic
Easily digestible
Suitable for dogs who have difficulty biting hard treats as these are soft and crumble.
Can crumble treat over dog meal for tasty nutritional topping

The Cons
It may be too soft and crumbly for some dogs who like a good crunch so dental cleaning with this treat would not rank highly.

---
No 2. Sam's Yams Veggie Rawhide Sweet Potato Dog Treats
---
Sam's Yams Veggie Rawhide Sweet Potato Dog Treats makes our top selection for vegan treats. Everything that goes into this product is grown on their own farm in the United States. This treat is a great alternative to the traditional rawhide bone as there are no preservatives, additives or colorings
Sams Yams have no processed items such as wheat gluten, corn starch, polymers, animal by-products or fats. They only use one pure food in this vegan treat and it's sweet potato.
These Sweet potato treats are thick cut and will you give your dog a good chew.
Sam's Yam even has a hardness and patented groove design that helps clean teeth and gums and promote dental health in your fur baby. This vegan treat is suitable for small to medium-sized dogs.
Key Features
Thick cut treats will give your dog a good chew with no preservatives or additives

Patented ridges to promote dog dental health

Suitable for small to medium dogs.

The Pros
American family-owned company – Front Porch Pets – all produced on farm
Supports dental health
No preservatives, colorings, or additives
Low in calories

The Cons
Some users found it was not suitable for dogs with sensitive stomachs.


No 3. Wholesome Pride Sweet Potato Treats
---
Wholesome Pride is an American company that produces vegan-friendly treats for dogs. They have a range of these chew dog treats in different flavors from Sweet Potato to Pumpkin.
What we particularly like is about these dog vegan treats is that they are made from one single ingredient. In this case, it is an all-natural product – Sweet Potato. The treats do not contain any artificial ingredients, fillers or preservatives and free of GMO.
For dogs with sensitive tummies, they are free of gluten and as they are grain-free they are easily digestible. Great for dogs with food allergies or sensitivities and they are packed with Dietary Fiber, Vitamins A, B6, and C, and Potassium.
The Sweet Potato Dog Treats are generally firm and they come in 3 types –
Sweet Potato Chews,  Sweet Potato Fries, or Sweet Potato Bites, and in order to maintain freshness, the treats are dehydrated. Each treat is approx 46 calories.
Key Features
Single All Natural Ingredient

Made in the U.S.A.

No preservatives, fillers & GMO-Free

Choice of Chews, Bites, or Fries & comes in 8 oz, 16 oz, and 32 oz bags

Suitable for small, medium, and large dogs.
Suggested Servings
Wholesome Food recommended serving suggestions are  2-3 treats per day for dogs under 20 lbs. and 2-5 treats per day for dogs over 20 lbs.
Listed Ingredients
Single-ingredient Sweet Potato

---
.
Homemade Vegan Dog Treats
There is always the option to make your own vegan dog treats for your fur baby if you don't want to purchase treats. These homemade treats can be made into different shapes from doggie bones to rounded treats.
The advantage of making your own treats is that you know exactly what goes into the treat, you can customize it for your dog's specific dietary needs and it can also work out cheaper.
Of course, not everybody has the time or culinary skills to make treats but it is actually quite simple to do- once you know how. There are lots of online videos and recipes available online. We came across a really simple Vegan Pumpkin Treat that your dog should really enjoy.
These vegan treats are made from Pumpkin puree, peanut butter, flax meal, and oat flour, and a touch of cinnamon to help with doggie breath. Simply mix the ingredients together, roll them out and cut them into shapes, and place them in the oven for baking.
Benefits of Vegan Treats for Dogs
Protein Source
Many vegan treats can be packed full of plant-based protein. It is important that your dog receives an adequate amount of protein in the diet and vegan treats can help with this requirement.
Help Clean Teeth
Vegan treats can also help with cleaning your dog's teeth. Based on the type selected many of these treats to require some chewing and should last a considerable amount of time. When your dog chews it helps to stimulate your dog's teeth and gums thereby helping to reduce plaque and tartar buildup. This all leads to healthier teeth and gums. Dog teeth brushing should still continue.
Vitamins & Nutrients
Vegan treats can be packed full of vitamins and nutrients that your dog requires for a healthy lifestyle.
Easy To Digest
Most vegan treats are easy to digest as most of these treats are suitable for dogs with sensitive stomachs. This can help dogs with sensitive stomachs who cannot eat another type of treats or sticks like rawhide.
No Splinters
There are no splinters in vegan treats so that's one less thing to worry about. When your dog chews a bone sometimes splinters can break off and these can cause all types of problems from bleeding gums to internal injuries when swallowed.
Relieve Boredom
Some vegan treats are chewable and will give your dog some chew time. Also if you have a puppy that likes to chew your favorite shoes then a vegan treat can help distract your pup – well until the next mischief.
Reasons to Try Vegan Treats for Your Dog
1. Health Concerns
Your dog may suffer from different allergies and sometimes regular dog treats although tasty could contain ingredients that may set off an allergy.
With vegan dog treats, there are normally very few ingredients. This makes it easier to control your dog's diet and reduce the exposure to ingredients that will be detrimental to your fur baby.
2. If you are a Vegan too.
If you are vegan it is your choice to explore the best options for yourself and your canine companion.
You may decide to continue to feed your dog a non-plant-based diet but may decide to introduce a healthy alternative in the form of tasty vegan dog treats.
3. Ethical & Environmental Reason
By giving vegan dog treats to your dog you could be playing a small part in helping the environment. Many meat-based products place a heavier burden on the environment and by switching to plant-based treats you can play your small part.
4. Try Something Different
It's always good to try something different especially if it has health benefits. To your surprise, your dog may actually enjoy a vegan dog treat. They can be very nutritional and tasty.
However, it is advisable to introduce any new type of dog treat slowly to see how your dog reacts to the new treat. Some dogs can have allergies and on most occasions, vegan treats are good for sensitive stomachs. Unfortunately, not all dogs' stomachs agree with certain foods and this can apply to vegan dog treats too. Sometimes it's a matter of trying a different type of treat or else you can always bake your own vegan dog treats with a food source you know agrees with your dog's stomach.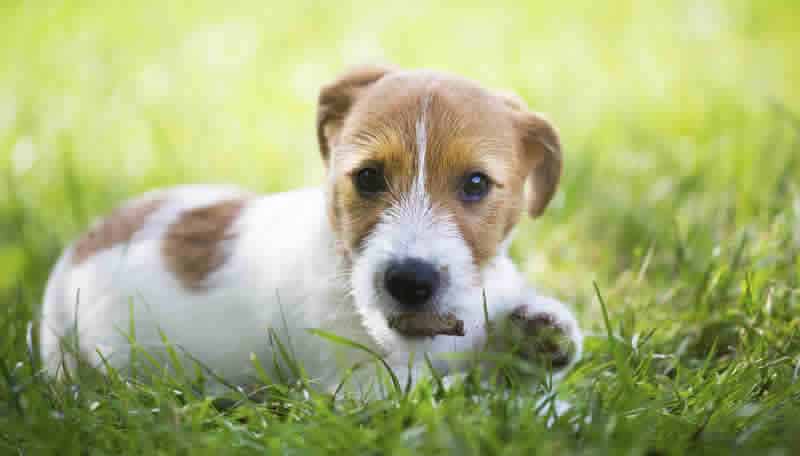 .
Buyers Guide For  Vegan Dog Treats
What To Consider
The Ingredients
Before buying any dog food product it's always good to have a look at the ingredients to find out exactly what they are made from.
Although you would expect to find all vegan products to contain all-natural ingredients and be free from preservatives unfortunately this is not always the case. Some vegan products can have preservatives and coloring so it's always a good idea to look at the ingredient list. Ideally, choose one with all-natural ingredients.
Protein Content
The protein in vegan treats comes from plant-based sources. Not all vegan treats have the same amount of protein. If vegan treats become an important part of your feeding plan then it is important to note the amount of protein and plan your meals accordingly.
Dental Help
Treats can sometimes help reduce plaque and tartar buildup on your dog's teeth. Chewing on treats helps stimulate the teeth and gum. Also, the shape of the treat with its different angles can also help with teeth cleaning. Some vegan treats can also contain ingredients that will help freshen your dog breath so when it comes to dog kisses it won't be a problem.
Size & Shape of the Treat
Vegan treats just like normal dog treats can come in a variety of different shapes and sizes. Some of these treats can be large and also be chewable. This will give your dog should have plenty of chew time.
---
Conclusion
Our overall top pick for the best vegan dog treat is the CocoTherapy Maggie's Macaroons Gourmet Treats. These vegan treats are raw and dehydrated at low temperatures to maintain freshness and the fact that they are USDA Certified Organic will give you the assurance that your fur baby is getting only the best.
---