We sometimes hear about the wonderful benefits of fish oil, particularly salmon oil. Many people take these fish oil supplements for a range of health issues. Well if so many humans are taking this supplement there must be some benefits for our fur babies too?
Using salmon oil to supplement your fur baby's meals is an easy and convenient way to make sure your fur baby is obtaining the goodness of omega 3 fatty acids from salmon. Dogs, just like us cannot produce these healthy omega 3 acids in our bodies so we must get it from either food or supplements. Some of these benefits include helping the immune system, reducing inflammations, strengthening the heart, and even battle against canine cancer.
When talking about salmon oil you should take note of the following two important Omega 3 Fatty Acids, EPA (Eicosapentaenoic acid) and DHA (Docosahexaenoic acid) and they are only in cold-water fish like salmon, mackerel, and cod.
Before giving any type of supplement it's important to have a consultation with your veterinarian on any health-related issue. Every dog is different and not all supplements are suitable for every dog. Our top choices for the best salmon oil for your dog can be found below.
 Summary: 5 Salmon Oils for Dogs

What is Salmon Oil?

Benefits of  Salmon Oil for Dogs

Frequently Asked Questions

Buyers Guide For Salmon Oil Supplements
Top Picks For Salmon Oil for Dogs

---
Top Picks: Best 5 Salmon Oil for Dogs
---
No 1. Zesty Paws Wild Alaskan Salmon Oil
---
Zesty Paws Wild Alaskan Salmon Oil makes our top selection for hip and joint supplements. It is an American product containing omega fatty acids, high levels of EPA, and DHA that all help promote a healthy heart, immune system, and hips, and joints.
The salmon is dispensed from a 32 oz bottle with a small pump located at the top of the bottle. Each pump works out as approx one teaspoon. This makes it easy to mix the salmon oil into meals. You have the choice of giving the oil in one serving or splitting it between morning and afternoon.
The presence of natural omega acids in the wild Alaskan salmon promotes healthy hips and joints while also promoting a healthy heart and immune system. It's also known to be able to improve the condition of your dog's coat so there is a healthy gloss and shine to the coat.
Once the bottle is opened it is important to keep it refrigerated so as to maintain freshness.
The salmon used is wild Alaskan salmon and this is the only active ingredient. The only inactive ingredient is mixed tocopherols that act as a natural preservative. As it contains fish oil and is a natural product there will be a fishy smell so depending on your smell sensitivity it is something to note.
Key Features
Omega Fatty Acids with high levels of EPA and DHA

32 Fl oz Bottle that with a pump dispenser on the top

Active ingredient wild Alaskan salmon

No Artificial Flavors or Preservatives
Serving Recommendation
Before you start giving your dog this supplement it might be best to start with a half serving. In this way it gives your fur baby a chance to get accustomed to the salmon oil. You can even split it between morning and afternoon meals.
One pump on the dispenser gives approx 1 teaspoon. This works out as 0.16 fl oz/ 4.92 milliliters.
| | |
| --- | --- |
| Your Dog's Weight | Amount |
| Up to 12.5 lbs | 1/2 Pump |
| up to 25lbs | 1 Pump |
| up to 50 lbs  | 2 Pumps |
|  up to 75 lbs | 3 Pumps |
| up to 100 lbs | 4 Pumps |
| up to 100+ lb | 6 Pumps |
Ingredients
Crude Fat Moisture (Max.)

Linolenic Acid (Omega-3 Fatty Acids)

EPA (Eicosapentaenoic Acid)

DHA (Docosahexaenoic Acid)

Salmon Oil & Mixed Tocopherols (Natural).

The Pros
American made with one active ingredient – wild Alaskan salmon
Packed with omega 3 acids, DHA for healthy hip and joints
Easy to dispense & mix into your dog meals
No Artificial Flavors or Preservatives
Zesty Paws has a 100% Satisfaction Guarantee

The Cons
As fish oil there will be a fish smell. Many users do not find it too strong but there are very sensitive noses out there who don't like the smell. So if you cannot tolerate a fishy smell then this salmon oil is not for you.
Need to keep it refrigerated to maintain freshness


---
No 2. Grizzly Salmon Plus Omega Fatty Acids
---
Grizzly Salmon Plus Omega Fatty Acids makes our top selections. What we really like is that this company sources its salmon from the wild.
Wild salmon is far superior to farmed salmon and has up to 40% more omega 3 than farmed salmon as wild salmon spend their lives in a natural environment foraging on a nutrient-rich diet. All of the omega-3s in this product come from salmon.
In addition, this company is American-owned and based in Woodville, Washington USA, and has been in operation since 2002.  There is a choice of sizes: 6, 8, 16, or 32 fl oz.  If you have used this brand before then you may be aware that they now have an updated and improved formula with increased levels of the beneficial omega 3 EPA with reduced levels of the polyunsaturated fats omega 6's
The product is easy to use and it comes in liquid form and it is dark orange in color. It is very easy to dispense as it has an airtight pump of a medical-grade standard that can accurately dispense the desired measurement of oil.
The National Animal Supplement Council (NASC) awarded Grizzly Salmon its quality seal that to demonstrate they have undergone a detailed audit of all facilities and manufacturing processes and so they adhere to the highest standards of manufacturing.
Wild salmon is a healthier option than salmon that has been farmed.
How To Tell Difference Between Wild & Farmed Salmon?  In order to tell the difference between wild and farmed salmon you will need to look at the omega 6 levels. If this level is over 3.5% then this salmon has been farmed or processed to the point where it is rendered non-wild. Also, note that if omega 6 levels are not stated then you can assume that the salmon is not wild and it is either farmed or mixed source.
Only premium ingredients are used in this product to ensure its quality is maintained. It has partnered with human-grade fish processors and setup processing beside them and they process everything in-house. Grizzly maintains its high standards by ensuring every batch is tested independently by a third party to ensure high standards ad quality control.

Key Features
Sources its own wild salmon

All production kept in-house

Airtight pump dispenser

Quality seal from the National Animal Supplement Council (NASC)
The Pros
The only natural ingredient is Wild Alaskan Salmon
American product
Easy and convenient to use
Awarded a qualityseal from NASC

The Cons
Some users found it difficult to press down on the dispenser even though it is a medical standard dispenser


---
No 3. Alaska Naturals Salmon Oil
---
The Alaska Naturals Salmon Oil is made using only wild Alaskan salmon from the North Pacific Ocean off the coast of Alaska. This salmon oil is rich in color and has a natural salmon smell. It also includes rosemary that keeps the refrigerated salmon oil fresh. The only natural ingredient is wild salmon and there are no artificial preservatives,  synthetic flavors, or any artificial colors in this oil.
This company makes this salmon oil product in their own certified plant and bottled at their own plant in Bellingham, Washington. Each bottle can stay fresh unopened for 24 months as the oxygen is purged using nitrogen.
From the research we conducted on Salmon oil,  mercury does not seem to be an issue with Alaskan salmon. In addition, wild-caught salmon has higher Omega-3 fatty acids than salmon that has been farmed.
Alaska Naturals Salmon Oil is available in the following sizes:  4 oz, 8 oz &  32 oz. Once opened, we recommend using the oil within 30 days. To help maintain freshness, store in a cool, dry location away from the stove and other heating appliances.
Recommended Dosing
One pump gives 1/2 teaspoon of this salmon oil
1/2 Teaspoon per 10 lbs in body weight.
One teaspoon of the oil gives 1319 mg omega fatty acids
Key Features
Wild Alaskan Salmon with rosemary to maintain freshness

No artificial preservatives,  synthetic flavors, or any artificial colors in this oil. 

Product made in their own facility

Available in following sizes:   4 oz, 8 oz &  32 oz

The Pros
The only ingredients are wild Alaskan salmon & rosemary to maintain freshness
Everything produced in house at their own plant
Easy to dispense
American product

The Cons
Some users experienced problems with the product arriving broken and leaking.


---
No 4. NaturVet Salmon Oil
---
NaturVet Salmon Oil is another good choice for salmon oil and this supplement comes in gel caps. There are 120 gel caps in every container.
For dog owners searching for salmon oil for your dog's skin and coat, this one could be for you. In addition, you can be assured of its quality with The National Animal Supplement Council awarding its quality seal to this product.
There is a also special filtration system that is used by NaturVet . This helps reduce any lingering smells so if your nose is highly averse to fishy smells this could suit your requirements.
Feeding Directions
2 Gel caps for every 15 lbs in body weight per day
Ingredients
Salmon Oil

Gelatin

Glycerin

Purified Water

Natural Mixed Tocopherols
Key Features
120 Gel Caps

Quality seal from National Animal Supplement Council

Specialized filtration system to reduce the fishy smell

The Pros
American product
Reduced fishy smell due to special filtration system and also the gel caps will ensure any smell is contained within
100% Money-Back Guarantee

The Cons
Not every dog will take gel caps so you may need to break them and empty contents of the gel cap into the meals


---
No 5. Beaphar Salmon Oil
---
Beaphar Salmon Oil is a natural supplement rich in omega 3 and omega 6 so it's a good source of essential fatty acids such as EPA and DHA. It is derived from sustainable fisheries and it comes in a 425 ml  bottle
The composition of this oil is Salmon Oil (Omega 6 (5.8%), Omega 2 (22.7% of which EPA is 9.3% and DHA 9.1%.
Many owners found this oil helps with improvements in your dog's skin and coat. It is very easy to use and most dogs enjoy the flavor when added to their meals. The recommendation with this product is to store it at room temperature and never above 77 degrees Fahrenheit and do not keep it in the refrigerator.
Feeding Recommendations (Per Day)
Small Dogs: 7.5 ml (1 Dessert Spoon)

Medium dogs: 10 ml

Large dogs: 15 ml
Key Features
425 ml bottle

Derived from sustainable fisheries

Rich source of omega 3 and omega 6

The Pros
Natural supplement sourced from sustainable fisheries
Easy to use

The Cons
Some users had issues with the oil running down the side of the bottle as it does not have a pump dispenser


---
What Is Salmon Oil?
Salmon oil is derived from the healthy fats of salmon. These healthy fats are called omega 3 fatty acids and they include both EPA and DHA. EPA stands for Eicosapentaenoic acid and DHA stands for Docosahexaenoic acid. These healthy fats are only found in cold-water fish such as salmon and shellfish.
The best type of salmon oil comes from wild salmon. It is far superior to commercially farmed salmon. When the wild salmon is caught the parts of the salmon that do not make it to the dinner table are used for salmon oil. These salmon pieces are then cold-pressed with minimal heat allowing the oil to be extracted.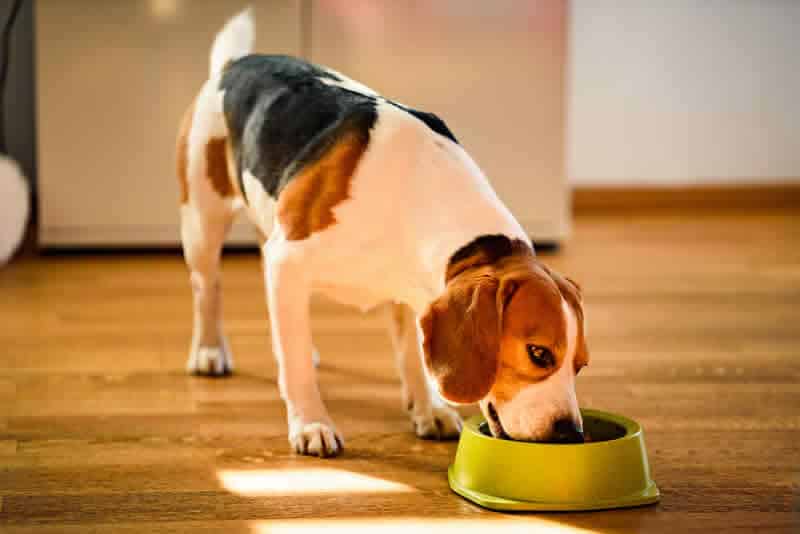 Benefits of Salmon Oil For Dogs
The main benefits of salmon oil for dogs range from improvements in heart function to improved immune systems. We have listed the main benefits of salmon oil below.
Good For The Heart
There is increasing evidence that consuming salmon oil is beneficial for the heart. The reason behind this is that within salmon oil there are good fats such as EPA and DHA and these fats improve the makeup of fats in the blood. They help reduce the bad fats such as triglycerides and increase the "good " cholesterol which all contribute to a healthier heart.
Helps With Skin Conditions & Allergies
Dog owners who use salmon oil often notice an improvement in their dog's skin with no more scratching and itching. This could be contributed to the presence of DHA and EPA. These fatty acids can have a calming effect on the dog's inflammatory reactions. This calming effect helps reduce the number of histamines and has the knock-on effect of reducing itching and scratching. This gives the inflamed skin a chance to recover and ultimately leads to a happy and non-itchy dog.
Reduced Shedding
Salmon oil is also known to help when a dog is shedding excessively.
Helps With Arthritis
Many studies on the benefits of omega 3 for arthritis have been conducted. The omega 3 fats that are in salmon oil, EPA, and DHA both help with reducing inflammations thereby helping dogs suffering from swollen and tender joints. Consequently, this makes it easier for your fur baby to get around and so increases their mobility.
Improved Mood & Increased Energy
When a dog is supplemented with salmon oil there can be increased energy levels and dog owners often report that their dogs appear happier. This could be to do with a reduction both in joint pain and stiffness in limbs. Can you imagine having pain in your joints and then you take a supplement and the pain is eased? Naturally, you would feel happy and have more energy.
Helps Immune System
Recent studies by Michigan State University show that the omega 3s in the oil can help boost the immune system by improving the functionality of the immune cells. A good immune system is vital for your dog's continued good health so that any infections or illnesses can be tackled.
Frequently Asked Questions
How Long Does It Take For Salmon Oil To Work?
If you follow the recommended dosage it normally takes around 3/4 weeks to see the benefits of using salmon oil. Gradually you should begin to see small improvements. The dog's coat will improve and skin becomes less itchy with better digestion and less pain in the joints. So long as there are no adverse effects the key is to keep to the recommended dosage and be consistent.
Will Salmon Oil Give My Dog Diarrhea?
Not all supplements are suitable for all dogs. In general, the majority of dogs can take this supplement without any adverse effects but for dogs with sensitive stomachs, it could initially cause upset. The key is to start off on a very low dosage and gradually increase the level. Your vet can advise you with regard to your own dog's needs.
How Much Salmon Oil for Dogs & Can You Give Too Much Salmon Oil?
It is best to avoid giving too much salmon oil. For most healthy dogs too much salmon oil will cause a stomach upset but for dogs with diabetes or pancreatitis, it can cause serious problems, and best avoid doing this in the first place. Also if your dog is taking anticoagulant medications then salmon oil supplementation would not be advisable as the oil has properties that will increase the anti-clotting effect in the blood.
According to PetMD, the safe dose for dogs and cats is between  20-55 mg combined EPA and DHA per pound of body weight is safe for dogs and cats. This dose is far less than those used to treat serious conditions where the risk of side effects is less important than the benefits of treatment.

Buyers Guide For Salmon Oil
What To Consider
Type of Supplement
Salmon oil for dogs comes in 2 main ways
1. Liquid
When the supplement comes in liquid form it can be easily mixed in with your dog's food and so will be quickly and easily absorbed. However, the downside to liquid is that your dog may not like the taste and you could be faced with a dinner refusal once it has been mixed with the liquid.
2 . Gel Caps
They are a convenient and easy way for your dog to consume the supplement. However, the main downside is that sometimes the content of these gel caps may not contain a high concentration of active ingredients so always check the labeling and ingredients.
Normally the big advantage with gel caps is that any fishy smell is reduced and contained within the gel cap itself,
Ingredients in the Salmon Oil
Due to the many varieties and types of salmon oil, they don't all have the same active ingredients.
However, you should look for the following active ingredients, omega 3 fatty acids
Eicosapentaenoic acid (EPA) &  Docosahexaenoic acid (DHA)
These omega 3 fatty acids play a crucial role in ensuring that your dog remains healthy. The omega 3 found in fish oil can also help improve your heart and decrease the risk of stroke.
Both EPA and DHA  are used in combination with fish oil to help with a variety of conditions from skin allergies, anxiety, inflammations, and even cancer. Most salmon oils have a one-to-one ratio of DHA to EPA. However, different combinations of omega 3 fatty acids are sometimes used to treat specific ailments.
For example, a ratio of 1 to 1 of DHA to EPA is the standard in most salmon oils, however, a higher ratio of EPA may be used to treat inflammations. For improved brain function then more DHA would be preferable.
Storage
Storage can be an important consideration. Some salmon oil supplements need to be refrigerated and others should be stored at room temperature and never refrigerated. To ensure that the product remains fresh and safe and effective to use you should check the label for directions and instructions on storage.
Source of the Salmon
The source of the salmon used in preparation for the salmon oil is an important consideration. Wild salmon is preferable over salmon that has been commercially farmed as they (wild salmon) spend their entire lives foraging in rich nutrient seas and feeding naturally. Consequently wild salmon will have more nutrients and minerals and also have a lower fat content than salmon that has been farmed commercially.
Preferably the salmon should also be sustainably sourced thereby ensuring future generations of dogs and humans can enjoy salmon and all its benefits.
---
Conclusion
Our overall top pick for the best salmon oil for dogs is the Zesty Paws Wild Alaskan Salmon Oil makes. This American product contains high levels of EPA and DHA that help promote a healthy heart, immune system, and hips, and joints.
---
Sources