Have you ever looked at your family dog and then tried to work out how many breeds of dog make up his genetic profile? 
For many people it can be just for fun to conduct a DNA Dog Test but sometimes it can also be important from a medical point of view. Some breeds of dog can be susceptible to various ailments and it can be good to be made aware.of this with a DNA test.  This can help you take preventative action and save one vet bills in the long term.
In this article we will be reviewing the Embark DNA Dog Test Kit. 
Embark Vet offers 2 types of DNA test
Both kits provide detailed breed identification results and the ancestry of your dog. The health kit provides an additional health screening for your dog.
Reasons for DNA Testing

Health Assessment
Certain breeds of dog may be susceptible to various ailments and diseases.  and having that knowledge can only help your dog with preventative action. For example some breeds of dog may have heart vulnerabilities and so vigorous running or training may not be suitable for that breed. 
Training Abilities
Some breed of dogs are fundamentally designed to fulfil certain roles. For example if you discover that your dog is predominantly a herding dog such as a Rough Collie then you know that your dog will be very active and require lots of exercise. The breed type can help you determine what type of dog training would be required.
For the Fun
It can be lots of fun finding out about your dog's ancestry. For many people they know more about their dog's  ancestry than their own.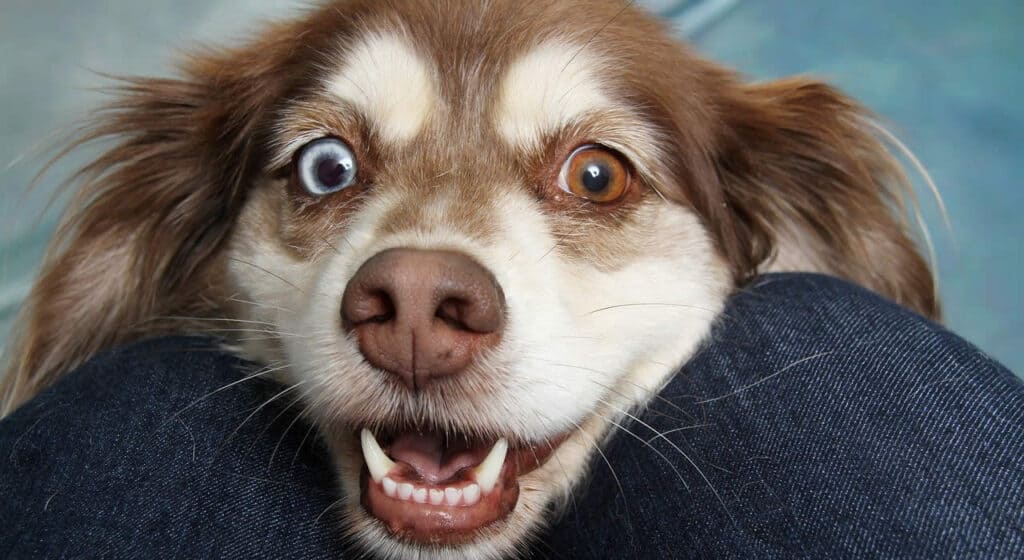 Embark Vet Product
Embark was set up by Adam and Ryan Boyko. These two scientists have dedicated their lives to dog genetics and help study many dog diseases and genetic conditions.
Embark is also partnered with Cornell College of Veterinary Medicine and is constantly collecting data. It also works closely with dog breeders and veterinarians throughout the USA.

The Pros
It can test for over 350 + different breeds of dog. That's even more breeds than the American Kennel Club recognizes!
Superior to any other DNA Dog Test in that it provides twice as much genetic information than their competitors.
Genetic mutation testing for 190+ canine health conditions
Embark offers live chat and email for customers if any issue interpreting the results.
Testing includes a genetic finder. With this finder it shows you where your dog's cousins and relatives are based.

The Cons
More expensive than competitors
Can take several weeks to receive back the results
Small minority of users are not fully content with the results based on research.

How Testing DNA Works At Embark
It was interesting reading reviews from users of Embark. One of the main concerns of users was that the results obtained from Embark did not match their expectations as to their dog's genetic makeup. It has to be pointed out that some users were not happy with the results.
Here in this video the chief scientist explains with examples how some dogs will not look how their owners think they should.
Features & Benefits
Breed Ancestry Identification
Recognizing where your dog roots come from has become very popular in recent times. 
Over 350 breeds of dog can be identified with the Embark DNA test. This covers almost the entire dog world.
As mentioned earlier the AKC only officially recognizes 218 breeds of dog. Embark's large database of breeds will almost cover every breed of dog. Consequently the Embark test can help identify if your dog has any rare breeds within his DNA. 
Ultimately all dogs come from wolves but there can be some interesting ancestry  along the way.
I discovered that most dogs in the USA and Europe trace their origin to a specific ancient group (or haleogroup) of A1a. Dog breeds such as German Shepherds and Golden Retrievers, as well as most Border Collies, Scottish Terriers, and Irish Wolfhounds belong to this A1a group.
Also there is a rare American breed called the Carolina Dog. This breed is unique to the U.S.A. and there is some debate if there are pockets of this dog running wild still in SE US. So perhaps your beloved four legged friend could have some Carolina Dog in his DNA and be uniquely American.
You can learn all about your dog's ancestry. Some dog breeds are more closely related than others. It's really interesting to discover where your dog comes from. 
Embark screens for over 190 + health risks. This can greatly help identify any potential future issues and gives you the opportunity to prevent, plan and treat these ailments. 
Helps identify physical traits for breed. Knowing what size your new puppy will be a great help when planning his future. Other traits available on the test include determining muzzle length, tail length, eye color as well as muscle bulk density.
Heath
Embark provides you with a medical report. You can then provide this report to your vet so that he/she can plan and be proactive for any future potential ailments.
The Embark tests for over 190 health conditions. This is greater than any other competing Dog DNA test on the market.
Taking preventative action based on this medical report can only help maintain your dog's wellbeing. You can find out if your dog is predisposed to some of the most common adult onset diseases such as  glaucoma, degenerative myelopathy, and dilated cardiomyopathy.
Physical Traits
Embark provides you with a complete report on your dog's traits. It's a great way to understand the science behind what makes your dog special.
Some of the main physical traits include: 
Adult Size: Having a good estimate of how big your dog will grow in the future will be beneficial. For example you can plan for the future. Rather than buying a small dog bed you can invest in a larger one.
Fur/Coat: Embark will let you know if your dog has a genetic propensity towards shedding. Other information provided includes coat length, curly coat, furnishings and hairlessness.
Muzzle Length
Blue Eyes
Hind Dewclaw
Muscling and Bulk
Meet Your Doggie Relatives
Embark is the only Dog DNA testing company that provides its clients with the ability to find their relatives. It tells you how much DNA your dog shares with other Embark clients and also provides you with the opportunity to connect to your doggie relatives.
This Doggie Relative option is not available in any other competitor dna canine testing company.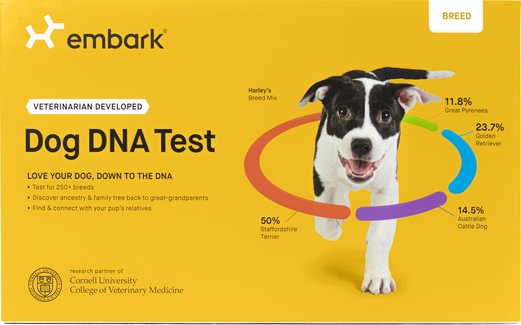 Alternatives
The closest alternative is Wisdom Panel 3.0 Canine DNA Test.
It has almost the exact same procedure as the Embark test  With a simple cheek swab you can do at home, the Wisdom Panel test analyzes for more than 350 breeds, types and varieties.
Wisdom Panel Essential
Tests for 350+ breeds, types and varieties, 25+ genetic conditions, 35+ traits
Wisdom Panel Premium
Tests for 350+ breeds, types and varieties, Screens for 200+ genetic conditions and 35+ traits
Conclusion
Overall the Embark DNA test would be my preferred option. Although Wisdom is a close second it loses out to Embark as they provide a much more detailed breed information section and they also include a "Meet the Relatives" section which can be a lot of fun to find out where your dog's cousins and relatives live.
There is also now a Discount Code valid until 31st. August 2020
Save $50 on Embark Breed + Health Dog DNA Kit!
Use CAMP50 at checkout.
Valid now – August 31, 2020.