Are you tired of your dog eating his way through his plastic cage in his quest for freedom and destroying the cage and his surroundings in the process? If the answer to this question is yes then maybe it's time to start looking at investing in a heavy-duty dog crate.
Although a heavy-duty dog cage is more expensive than its equivalent wire or plastic crate it could prove to be a great investment and save you money in the long term which is always good for your pocket.
Best Heavy Duty Dog Crates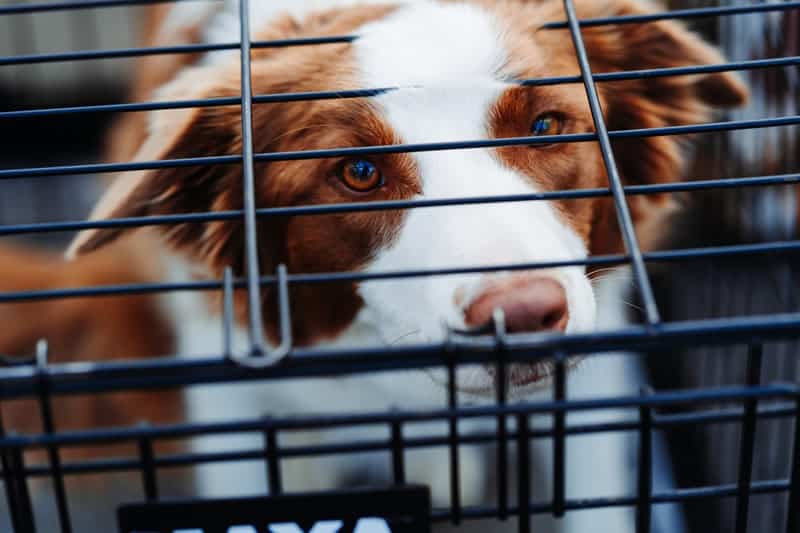 Top Picks: Best Heavy Duty Dog Crates / Cages
---
No. 1 – Pro Select Empire Dog Cage
---
Our top pick is Pro Select Empire, Dog Cage. This crate was specifically designed for dogs who were prone to escaping from other crates. It has been described as the "Alcatraz For Dogs".  So if your dog is an escape artist then this could help solve your escape issues.

Features include:
Strong Tubular Bars & Welding
The cage is constructed with powerful tubular steel that is strong enough to keep powerful dogs contained safely within the cage. Within the cage, there are no sharp edges within the cage so your dog will not harm himself. There is good ventilation within the cage and you can always see your pet through the bars and of course, he can see you too! There is also heavy-duty welding at stress points which gives the cage that extra bit of security.
Dual Door Latches
The cage has stout dual door latches which help prevent damage from scratching or biting.
Hammertone Finish
A nice bonus is that the cage looks good with its hammertone finish. This also helps resists rust from forming.
4 Movable Locking Casters
The cage can easily be moved around as it has 4 casters. There is a locking mechanism in place to provide extra stability.
Flooring
The floor is 20 Gauge steel bars with an approximately 1″ deep pull out tray under it. For your dog's extra bit of comfort, you may want to place a heavy-duty mat at the bottom.
No Top Opening
There is no top lift opening in this cage as it is bolted together to maintain its strength.
Assembly
The cage does not come assembled but has easy to follow instructions.  Some users described its construction as easier than Ikea furniture and much more sturdy.
2 Sizes Available
The Pro Select comes in offers two sizes
Medium:  33.75″ H x 37″ W x 25.13″ L
Large: 41.25″ H x 42.25″ W x 30.75″ L

The Pros
Well made & very durable and strong with heavy-duty welding.
The Alcatraz of Dog Cages
Dual Door Latch for extra security
Easy to assemble with full instructions
Wheels with locking mechanism
Easy to Clean

The Cons
Small minority users found their dogs could open the latch. This was solved with a steel carabiner from the local hardware store.


---
No 2 – Smonter Heavy Duty Dog Crate
---
The  Smonter Heavy Duty Dog Crate is our second pick for heavy-duty dog crates. It is made of welded steel and has a sturdy metal frame that prevents even the most aggressive canines from escaping. The surface of the cage has a non-toxic finished surface so it is safe if your dog licks the cage.
Features include:
Unique Escape Proof Design
The cage is designed specifically to prevent escapes and so has a Y pattern design. This particular design effectively prevents your dog from sticking his mouth out through the bars.
Heavy Duty & Welded
The cage is constructed a sturdy metal frame with welded steel bars. It is very sturdy and can withstand even the most aggressive of dogs.
Double Doors
The dog cage has two doors. One at the side and the other one is located at the top of the cage. The top door allows you to interact with your dog. With a sturdy metal frame, the cage is well ventilated and provides good visibility for you both.
Easy to Clean & Movable
There is a removable slide-out plastic tray and the cage has 360 360-degree rotating wheels help moving outside, and they are locking casters for better stability.
Assembly
The cage is shipped partially assemble and you just need to screw the parts to install it.
Available Size & Colors
Suits most large to medium-sized dogs with measurements of 38″L X 26″W X 32″H
There are 2 color choices available: Brown or Dark Silver

The Pros
Well made & very durable and strong
2 Doors – Top & Side
Heavy-duty welding
Partially assembled
Has wheels with locking mechanism
Easy to Clean

The Cons
Some users had an issue with the latch on the top


---
No. 3 – MidWest Homes for Pets XXL Giant Dog Crate
---
The  MidWest Homes for Pets XXL Giant Dog Crate is for those gentle giants in your little or not so gentle ones too! This dog cage is enormous and is suited for the big dog breed such as Great Dane, Irish Wolfhound, Saint Bernard, etc
Drop Pin Construction
The cage uses drop-pin construction (4 drop-pins) which ensures durability to safely and securely handle large breed dogs.
Double Door Design With Bolts
The crate has a double door design from the front and side. Both doors feature three heavy-duty, secure slide-bolt latches per door for ultimate protection and security.
Patent-Pending L-Hook
It also has a new patent-pending for a feature called an  "L-Hook"  that prevents the sides of the cage from falling in.
Easy to Clean
The crate is easy to clean as it comes with a tough leak-proof plastic pan.
Size
54 Length x 37 Width x 45 Height Inches & weighs 80.2 lbs.

The Pros
Enormous crate for giant breed dogs
Durable & strong for giant breeds
Double Doors with secure bolts
Easy to clean

The Cons
Will need a minimum of 2 people to assemble the crate given its enormous size
No wheels to move the crate


---
No. 4 – Homey Pet Heavy Duty Dog Pet Cage
---
The Homey Pet New 37″ Open Top Heavy Duty Dog Pet Cage is a very competitively priced stackable cage design with an open top. It's made from steel metal with a non-toxic coating which helps prevent rusting..
Features include:
Steel Construction with Open Top
The cage is made from high-quality steel and the open top allows you to place your dog inside the cage from the top assuming he's not too big or else you can access him from the top when enclosed.
Stackable
The cage is stackable so if more than one cage it can help save on space.
Movable
The cage comes with 4 casters with a locking mechanism.
Easy to Clean
You can easily remove the wire floor grid for easy cleaning. The tray is made from ABS material with a thickness of 0.21″. It can also fit inside the cage to provide more comfort for your dog's feet.
Size
Length 37″ x Width 22″ x Height 30.5″
Interior height: 25″ &  Bar spacing: 1″

The Pros
Steel construction with open top
Competitively priced
Stackable & movable too with locking casters
Easy to Clean

The Cons
Not as sturdy as other heavy-duty cages so if you have an escape artist dog may not be for you.

---
No. 5 – Luckup Heavy Duty Dog Crate
---
The LuckUp Heavy Duty Dog Crate comes in 4 different sizes and is suitable for medium to large-sized breeds. It is made from high quality steel and is coated with non-toxic finish.mn
Features include:
Heavy Duty Frame
The cage is made from high-quality corrosive resistant with a non-toxic finish.
Double Doors & Locks
The cage has 2 doors. One door is at the side for entry in and out and the other door is at the top of the cage allowing for easy access. It also comes with two locks with safety buckles to prevent dog escapes.
Movable & Suitable for Outdoors
It has movable 360-degree casters with a locking mechanism so you can take the cage outside
Easy to Clean
It has a removable (slide-out) plastic tray allowing for easy cleaning.
Easy to Assemble
The cage is easily assembled in 3/4 minutes
Size
Length 37.5″ X  Width 25.5″ X  Height 32″
Internal height of the dog cage (excluding wheels) is 32″H
Colors
The cage comes in a choice of Black or Silver.

---
Who Needs a Heavy Duty Dog Crate?
There are a number of reasons why your dog may need a heavy-duty dog crate.
Active Chewer
If your dog is the type of dog who likes to chew and chew then no doubt your plastic dog crate is in need of replacement. Dogs can chew through plastic and bend the metal wire. Of course, it's not good for their teeth. Having a more sturdy and metal cage will help eliminate this chewing issue
Escape Artist Dog aka Houdini Dog
If your dog poses as Houdini and escapes from every enclosure then a heavy-duty dog crate could be the answer to your problems. Now there will still be some dogs even if bound in a straight jacket would also escape but in the vast majority of cases, a heavy-duty dog crate will certainly reduce the chances your furry friend will escape.
Strong Dog aka Samson
If your dog is strong and muscular then a heavy-duty dog crate may be your only viable option. Although your dog may be a gentle giant with everyone the crate that holds him will need to be strong and not fall apart when he moves about.
Guard Dog
If your dog is a top-notch guard dog and will not let anybody into the house then having a heavy-duty dog crate on standby can be a good idea. This is especially useful if you have visitors to your house. Having a strong secure crate will give you peace of mind that your dog will not threaten your guests and cause them fear and panic.
Things to  Consider for a Heavy Duty Dog Crate
Adequate for Dog Breed Size
The size of your dog is a major factor to consider when choosing the right dog crate. Some dog breeds such as Great Danes & Wolfhounds are extremely large and bulky and there is no way a filmy dog crate would be able to tolerate their size and weight.
Other breeds of dogs such as American Pit Bull and Satty have particularly strong jaws and could easily bend standard bars or metal wiring so a heavy-duty crate may be your only viable option if you need to crate your dog.
Strong & Durable
The crate has to be strong and durable and withstand the daily rigors of an active dog within the crate.
Easy to Clean
Having a dog crate that is easy to clean will save you time and effort. The selections of crates we have chosen each have either a slide-out grate or removable plastic tray that can be taken out easily. Having a clean crate is important from a health and safety aspect.
Wheels
Having wheels on the crate can be very helpful if you need to move it to different rooms in the house. Otherwise trying to lift a heavy-duty dog crate could give you serious back trouble. There is usually a brake mechanism for the wheels to provide stability and in some cases, the wheels can be removed.
Adequate Ventilation
Make sure the dog crate has adequate ventilation so that there were no restrictions on airflow. This is particularly important during those summer days and nights.
Enough Safety Latches
When choosing a heavy-duty dog crate make sure there are at least 2 latches to close the opening. Some dogs are experts at manipulating these latches so an extra one gives that bit of security.
Frequently Asked Questions
How do I Pick Right Size?
Picking the right-sized crate for your dog is vital. The crate should be tall enough for your dog to stand comfortably and not bang his head at the top or stoop his head. It should have enough room length-wise so that your dog can lie down comfortably and be able to turn around with ease. When the crate is too large then there is the possibility that your dog will pee or poo at one end of the crate
How To Make Crate Enticing
It's a good idea to make the crate comfortable and cozy for your dog. You want him to see the crate as somewhere he can chill out and relax and a nice peaceful place to take a nap. The crate can keep him safe and out of any harm's way. With that in mind, you can place a comfortable bed and blanket in his crate. This will give him reassurance and reduce the likelihood of anxiety.
How To Prevent Crate Escapes
The best way to prevent any crate escapes is to train your dog.  It is very important that the crate is never used as a punishment when your dog does something he shouldn't do. If you use the crate in this way then your dog may come to resent being placed there and associate it with a bad experience. This will only make the situation worse.
You should start slowly and introduce your dog to the crate as a special place where only he can reside. Leave the door open and place some tasty treats and his favorite toy and bedding there. Give him the freedom to explore the crate and have the option of entering and leaving the crate.
As he grows accustomed to the crate then gradually increases the time he spends there. Each time just extends it a little. It can be a slow process but well worth the effort if you persist.
How To Stop Your Dog Barking In Crate
This issue and escape issue are related. You need to make sure your dog does not feel isolated and alone in the cage as otherwise most likely he will fret and begin to bark looking for attention.
Crate training is a gradual process and you need to slowly build your dog's level of tolerance to the crate. Start off with short stays in the crate with the door open and make it enticing to go inside with toys, his favorite blanket, and tasty treats. Talk to him in a calm and reassuring voice and then say goodbye and leave. Wait outside the door for a few mins and then come back in. Repeat this as often as you can so that your dog realizes you will be back soon. Over time gradually increase the length of time and all going the barking will cease as your dog knows you will be back.
Should I Remove Dog's Collar When In Crate?
It's highly recommended to remove any collars and harnesses from your dog while he is in the crate. This reduces the likelihood that he will catch some part of the collar and harness in the wires or bars. Unfortunately, freak accidents can happen so reducing this risk I think is worth the hassle of removing the collar and harness.
Conclusion
Our top pick for the best heavy-duty dog crate goes to the Pro Select Empire, Dog Cage. This crate has been described as the "Alcatraz For Dogs" as it was specifically designed for dogs who were prone to escaping from other crates.