When everything is good with your feet you don't think about them you just continue walking. Now imagine you have a stone in your shoe or you have a blister then it is a different story altogether. Looking after your feet is very important and it is no different for your dog's feet and pads
I know when I walk my dog I always check his pads after a walk. One time he picked up a piece of glass splinter which resulted in an infection and ultimately surgery to remove the embedded glass.
When dogs are out walking on a leash or harness their feet are exposed to all kinds of danger. In the summer it can get very hot and the pavement can be like an oven. In winter there is snow, ice, and all types of toxic salt on the road and pavement. So you can provide those paws with some protection with a dog paw balm.
Quick Pick - Best Dog Paw Balm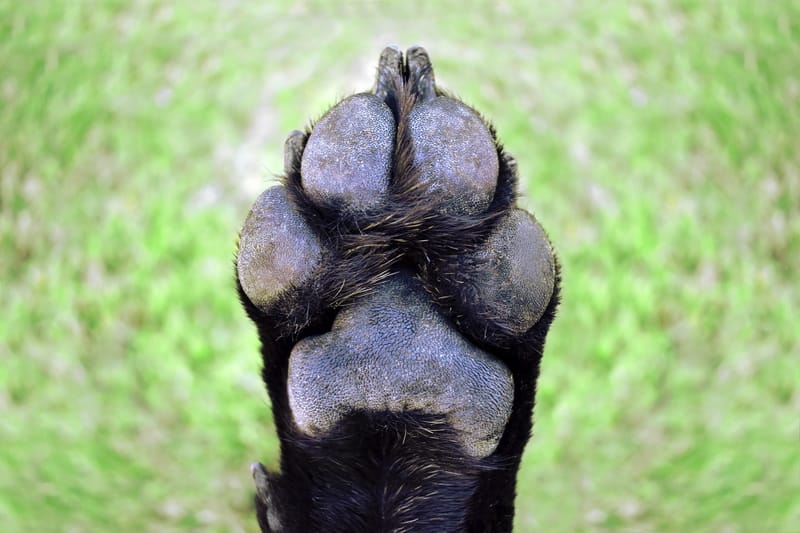 Top Picks for Dog Paw Balm
---
No. 1 – Musher's Secret Dog Paw Wax (2.1 Oz)
---
Our top pick is Musher's Secret Dog Paw Wax. This was developed in Canada for the Canadian Dog Sledding Team. I particularly like the fact that this is an all-natural product that has been around for over 3 generations so it must be doing something right for the dog paw pads.
Breathable Protection Barrier
Mushi Secret forms an invisible protective barrier for your dog's paws. This barrier is semi-permeable allowing your dog's paw pad to breathe and perspire as normal.
Safe
Mushi's is safe for your dog to lick his pads, however, make sure that the balm is fully absorbed before giving your dog his full freedom to lick. Sometimes a tasty treat distraction for the dog and perhaps for you when you're finished could help.
All Seasons
As Mushi was first produced for the Canadian Dog Sledding team it works really well in winter protecting your dog's paw pads from snow, ice,  salt residue, and snowballing.
In summer it protects your dog's paws from hot pavements, sand and sand burn. And in normal times it also provides protection against rough terrain, pesticides, and lawn fertilizers.
All Natural Ingredients & High Quality
Musher's Secret is made from the highest quality food ingredients and is also completely 100% natural food grade oils and waxes. The Vitamin E and beeswax conditions and relieves the dog's paws.
The formula is also non-toxic, non-GMO, and even gluten-free.
The ingredients include 100% pure natural waxes (including White and Yellow Beeswax, Carnauba, and Candelilla Wax) and vegetable oils with vitamin E.
Non-Staining & Fast Drying
The paw balm absorbs in seconds after its application and has the added bonus of being non-staining. Consequently, it will not come off on floors, carpeting, or clothing. It is also 100% waterproof.
Application & Usage
For year-round use apply a thin layer 2-3 times a week and rub in. The product can be used year-round to provide protection. It also strengthens and moisturizes your dog's pads and helps prevents them from drying and cracking.

The Pros
High-quality all-natural ingredients
Been around for 3 generations
Non-Stain & fast drying
Works in hot and cold
Works on human feet too!

The Cons
Some dogs can have a reaction even to natural ingredients


---
No 2 – Pet Head Oatmeal Natural Paw Butter (2 fl. oz)
---
The Pet Head Oatmeal Natural Paw Butter formulated with natural ingredients to soothe dry and cracked paws from hot or cold weather. This balm is more of a soothing moisturizer for dry and cracked paws than a barrier protector.
Natural High Quality Ingredients
In summary the main ingredients are  shea butter, oatmeal, mango, vitamins E and F, coconut oil, olive oil, and aloe vera .
Detailed ingredient list includes:
Olea Europaea (Olive) Fruit Oil, Helianthus Annuus (Sunflower) Seed Oil, Carthamus Tinctorius (Safflower) Seed Oil, Beeswax, Cetearyl Alcohol (Plant Derived), Lanolin, Avena Sativa (Oat) Kernel Flour, Avena Sativa (Oat) Kernel Extract, Fragrance (Parfum), Tocopheryl Acetate (Vitamin E Acetate), Tocopherol (Antioxidant), Orange Peel Wax, Theobroma Grandiflorum (Cupuacu) Seed Butter, Butyrospermum Parkii(Shea Butter) Fruit, Mangifera Indica (Mango) Seed Butter, Linoleic Acid (Vitamin F), Ascorbyl Palmitate (Vitamin C Palmitate), Cocos Nucifera (Coconut) Oil, Aloe Barbadensis (Aloe Vera) Leaf Extract, Jojoba Esters, Isopropyl Jojobate, Jojoba Alcohol.
Pleasant Smell
It has a really pleasant smell of oatmeal cookies so if this smell is not your thing then you may have to look at other options.
Application & Usage
Recommended rubbing in the lotion with a small amount as it spreads really well. If you use too much then it can be a bit too greasy. Make sure it is fully absorbed before heading out for that walk. Once opened the product has a shelf life of 2 years.

The Pros
Made in the USA
Smells of oatmeal cookie
Soothes and heals cracked and dry paw pads
Safe for humans too

The Cons
More moisturizer & restorer than barrier protector


---
No. 3 – Natural Dog Company – Paw Tection
---
The Natural Dog Company Paw Tection is a naturally organic balm that helps protects paws from cracking and peeling and also creates a barrier of protection. Quite similar to Mushi's it protects paws against heat, cold, salt, snow etc
All-Season Protection
Offers protection to your dog's paw throughout the year. In winter protects from snow, salt, and ice and in the summer it protects against hot pavements.
All-Natural & Organic
The balm is made from natural organic ingredients.
Fragrance-Free
This balm is fragrance-free which can be very helpful for some dogs and their owners. Some dogs love to lick nice-smelling lotions and waxes. Also, some owners do not like certain fragrances so if you fall into this category it could be worth giving this balm a try.

The Pros
Protects & helps heal cracked pads
All-natural organic
Made in Texas USA
Fragrance free

The Cons
Could be slippy on certain surfaces


---
No. 4 – Baely's Paw Shield Platinium (4 oz)
---
Baely's Paw Shield Platinium is made by a family-run business located in Atlanta GA, USA, and has been around for a long time protecting dog paws.
Moisturizes & Protects
This balm contains beeswax which helps moisturize and protect your dog's paws.
Non-Stain Formula
This is a really nice feature as it means that your floors and furniture will not get stained. The product is solid at room temperature which means that the balm is solid. This means that if your dog wipes his feet on the floor or furniture the balm will solidify and so can be easily wiped clean.

The Pros
Made in USA
Moisturizes and Protects Paws
All-natural ingredients
Non stain formula

The Cons
More expensive than competitors

---
No. 5 – Burt's Bees for Dogs All-Natural Paw & Nose Lotion (4oz)
---
Burt's Bees All Natural Paw & Nose Lotion is included in the selection although it is more of a lotion than a balm. It works really well protecting, repairing, and restoring your dog's dry or cracked nose and paw pads.
USA Made & For All Seasons
This is an American made product. You can use the lotion in all seasons to protect and moisturize your dog's paw.
Natural Ingredients & pH Balanced
The product lists that it has over 97% natural ingredients and contains rosemary and olive oil.  It is also free of sulfates, colorants, and harsh chemicals as well as being pH balanced.
The full ingredient list is as follows:
Water, Coco-Glucoside, Glyceryl Oleate, Decyl Cocoate, Glycerin, Xanthan Gum, Honey, Beeswax, Vaccinium Myrtillus Fruit (Bilberry) \Extract, Simmondsia Officinalis Rosemary) Leaf Extract, Olea Europaea (Olive) Oil, Potassium Sorbate, Decyl Glucoside, Phenoxyethanol, Citric Acid.

---
5 Main Parts to Your Dog's Paw
Your dog's paw consists of five main parts which are listed below:
1. The Claw
People often refer to the dog's claw and nails as one in the same thing. However, this is not exactly true as your dog's nails do not contain blood vessels and nerves whereas the claw does. Claws come out from the bones of the dog. In addition, a dog cannot retract its claws as a cat does.
2. Digital Pads
The digital pads act as strong shock absorbers or cushions that protect your dog's joints and bones.
3. Metacarpal Pad
When you lift your dog's paw to view the big heart-shaped big pad is called the metacarpal pad. Again this pad works by helping reduce the pressure on the bone and joints.
4. Dew Claw
When you look at your dog's paw the average dog has 5 nails on their front feet and 4 nails on each rear foot.
The extra nail on the front foot is called a dewclaw. They are the little claws of the forearm. Dewclaws could be looked at as the thumbs of dogs.
Dogs generally use the dewclaw to help them hold onto objects better when they are having a juicy bone, climbing or when running at speed around corners the dewclaw provides stability and traction
5. Carpal Pad
This is the pad that is located on the top of the dewclaws. At the end of your dog's claw are the nails which provide protection for the pads.
3 Shapes of Dog's Paw
Not all dog paws are the same and they generally come in three main shapes which are as follows:
1. Cat Feet
Can you imagine your dog describing his feet as cat feet especially if cats are on his wanted list? Well, dog breeds such as Akita, Doberman, Giant Schnauzer & Newfoundland have "cat feet". The term describes a dog's paw that is neatly rounded and compact similar in appearance to a cat's. A cat-shaped foot gives a good grip and requires less energy to lift the ground. As a result, less energy is required when moving. Working dog breeds normally have this type of foot.
2. Hare Feet
Hare feet are usually characterized by having 3 long digital bones. They enable your dog to move faster while exerting less energy. Dog breeds that can run fast normally have hare feet such as greyhounds, and whippets.
3. Webbed Feet
Webbed feet occur when the toes are connected with a skin membrane. Dog breeds that normally have webbed feet include dogs that have been bred to work in water. Such breeds include Irish Water Spaniel & Newfoundland.
What Dog Paw Pads Do
Paw pads are composed of keratin, collagen, and fatty tissue. This fatty tissue is covered by a layer of skin that is usually black or pinkish in color.
1. Shock Absorbers
The dog paw pads act as shock absorbers to protect your dog's joints and bones.
2. Provide Insulation
The fatty tissue provides insulation to your dog's feet to help keep their feet warm especially when out walking on snow or ice.
3. Balance & Traction
The paw pads help your dog balance. Some breeds of dogs have very large pads that appear quite flabby. This is to help them walk better in snow and ice.
4. Scent & Sweat Glands
The paw pads also contain scent and sweat glands which are normally used to mark your dog's territory.
The Texture of the Paw Pad
The texture of the paw pad normally falls into two main categories. This texture depends on what type of ground or terrain your dog covers
Soft & Smooth
Normally soft and smooth pads are associated with dogs who walk on soft surfaces such as grass or clay. Many older dogs who have a more sedate lifestyle and no longer walk on pavements will have soft pads. The same applies for puppies but over time their pads too can harden if walked on asphalt.
Rough & Calloused
These types of pads are typical of dogs who walk on asphalt. They are hardened over time with callouses. This provides protection for the pad. Over time your dog's pad becomes accustomed to the type of surface they walk on every day.
Conclusion
Our top pick for the best dog paw balm goes to Musher's Secret Dog Paw Wax. This all-natural paw balm has been around for 3 generations and was developed in Canada for the Canadian Dog Sledding Team. It's a well-known and recognized brand.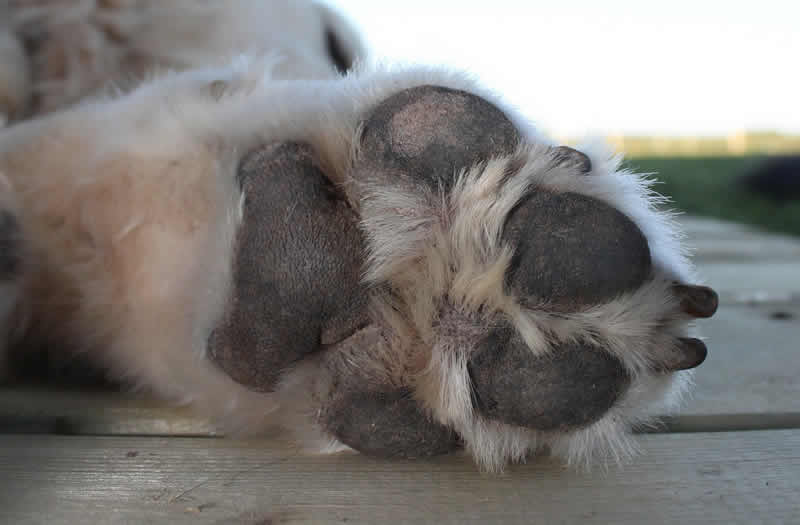 General FAQ
How often should you put paw balm on dogs?
Paw balm can be used on your dog's paws as often as necessary. In the summer the ground can be hot and uncomfortable for paws so paw balm can be used after walks or at the end of the day. In winter the paw balm can be applied to help protect the paw and also reduce snowballing between the pads.
How do you use paw balm for dogs?
To use paw balm on your dog simply rub the balm with your fingers and then gently massage it into your dog's paw. Cover the entire paw pad with a smooth layer of balm and then try and keep your dog still while the balm fully absorbs.
Is paw butter good for dogs?
Yes, paw butter is good for dogs especially dogs with cracked and dry paw pads. Paw butter helps moisturize and protect the paw pads during those hot summer months with hot pavements and in winter protects the pads from snow and ice with a protective layer.