Our dogs like to go everywhere with us and that includes traveling by car, truck, or SUV. Many dogs like to move around and can sometimes jump into the passenger seat while we're driving.  Sometimes they can get very excited and may overreact if they spot another dog or car. This can cause a distraction and could potentially lead to an accident.
In order to avoid situations like this, it is best to restrict your dog's movement. There are several car safety measures available for your dog and they include dog seat belts, dog booster seats, and dog car barriers.
In this article, we are reviewing the 5 best dog car barriers.

---
Top Picks: Best 5 Dog Barriers
---
No 1. Dykeson Dog Car Net Barrier
---
The Dykeson Dog Car Net Barrier is a stretchable and durable netting barrier. What we particularly liked is that there are no tools required for a quick and easy installation. It is attached with 4 safety hooks that connect to your car's headrests and seat underneath. The netting is durable polyester and an extra-thick mesh design to keep your dog confined to the backseat area.
You can also store any items you may need on your journey such as a cellphone, tablet, wallet, keys, etc. There is an opening at the top for storage purposes.
As the netting is attached to the front seat headrest it does not extend to the ceiling. If your dog is a jumper or is desperate for your company on a car journey then you may have to look at other options.
Key Features
Durable Stretchable Netting & Storage
The netting is made from durable extra-thick polyester and it can stretch to suit your car or SUV. You can also store your valuables within the netting as there is a pocket opening at the top section.
Universal Fit
It fits most cars and SUVs. Before the netting is stretched the netting is 11.7 inches x 11.7 inches
Easy Installation
The Dykeson Car Barrier is very easy to install and there are no tools required. You simply attach the 2 larger plastic hooks to the two headrests in the front seats and then hook the other 2 hooks to the bottom of the car seats.

The Pros
Easy installation
Durable and stretchable
Universal fit for most cars and SUVs

The Cons
For headstrong dogs, some users found they would try to jump over the netting and get caught in netting & smaller dogs poke head through the netting.


---
No 2. Rabbitgoo Dog Car Barrier for SUVs/Vans
---
The Rabbitgoo Dog Car Barrieris suitable for most cars, SUVs, and vans and is made from premium quality steel. As well as being rust-proof this steel is strong and durable and can withstand dog pawing.
As this barrier is attached to the rear backseat headrests it means that your dog will be confined to the cargo area of the vehicle. And it is still possible to look out the back window as it wide panel mesh.
We liked the fact that no tools are required for its installation and it fits most cars, SUVs, and vans. To make sure it fits your vehicle measure the length between the two sides of the cargo area as it has a maximum length of 61.4″
Take note if you have a dog climber as depending on your vehicle interior's structure there could be small gaps at the side and the top. For most well-behaved dogs this shouldn't be an issue as the panel is well secured once set up.
Key Features
Well Made & Durable
The barrier is made from premium quality steel which is durable, strong, and rustproof.
It has 3 panels that are connected together.
Main panel dimensions are Length 35.8″ x Height 15.9″
Two side panels are Length 16. x Height 11.8″
Universal Fit
Fits most cars, SUVs, and vans with extendable headrests. The barrier has a maximum width of 61.4″
Easy Installation
No tools are required to install this barrier. Best to install the main panel first and then the side panels. It should only take a few minutes. You place the barrier tightly to the backseat headrests by using two thick nylon straps that come with metal grips. It comes with installation instructions.
The Pros
Premium quality steel can withstand dog pawing and bangs.
Fits most cars, SUVs & vans – max length of 61.4″
Easy installation without having to use any tools

The Cons
In order to install the dog car barrier properly, you will need extendable headrests in your vehicle.


---
No 3. Bushwhacker – Deluxe Dog Barrier 56″ Wide
---
The Bushwhacker – Deluxe Dog Barrier is designed to be attached to the front seat headrests and/or the seat frame or the seat belt mount.  The screen is 56″ wide so it will fit if your vehicle inside width is equal to or more than this length.
We like the durability of the screen and it is also scratch-resistant. It maintains its shape and sturdiness from the use of lightweight aluminum tubing that surrounds the barrier. It is best suited for large/medium-sized dogs as smaller ones could try and squeeze in at the sides if your width is more than 56″. Also best suited for larger-sized vehicles.
Key Features
Sturdy & Scratch Resistant
The barrier is sturdy and keeps its shape from the aluminum tubing that surrounds it. The screen is also resistant to pet scratches and scrapes.
Fitting
This barrier is best suited for full-sized sedans cars, large trucks, and SUVs.
Easy To Install
The barrier is easy to install and it will not require any tools.

The Pros
Durable and scratch resisant screen
Fits large trucks. SUVs and large sedans the best
Easy to install

The Cons
Best suited for medium/large sized dogs as smaller dogs could squeeze in at the sides if the width of interior is more than 56″


No 4. C CasmirR Heavy-Duty Dog Barrier
---
The C CasmirR Heavy-Duty Dog Barrier – Cars/SUVsis a well-constructed barrier made from high-quality steel. The steel has a smooth surface that ensures your vehicle interior is not scratched. The barrier consists of one main panel and 2 side panels. You have the choice of using straps or knobs to fasten and connect to the backseat headrests.
It's a good choice if you have a medium to large-sized dog or a well-behaved smaller dog. There are small gaps at the side so you need to be aware if you own an escape artist dog who may try to squeeze through the sides.
Key Features
Well Made
The barrier is made from high-quality steel and has a smooth surface.
Adjustable Fitting
This barrier is adjustable from 35.5 inches to 48 inches. It fits most cars and SUVs.
Guarantee
It comes with a 3 Year Warranty and a Money-Back Guarantee.

The Pros
Well made with quality steel and securely attaches to headrests
Adjustable & will fit most cars
3 Year Warranty

The Cons
If you have a climber there may be gaps at the top & side to note.

---
N0 5. Honest Luxury Dog Car Cover with Side Flap
---
The Honest Luxury Quilted Dog Car Seat Covers with Side Flap works like a hammock-style dog car barrier to confine your fur baby to the back seat. The hammock covers the entire back seat but there is n optional side flap opening. It not only works as a barrier but also protects your backseat from mucky paws and any scratches or scrapes,
It is very easy to set up in a matter of minutes. Suitable for all breeds and sizes the hammock style barrier will work so long as your dog is not a jumper and/or desperate for your company.
Key Features
Well Made
The cover is made from polypropylene and it's a heavy-duty quilted fabric. It is both durable and soft and will provide a cozy seating or lying area for your dog. There are also non-slip backing and seat anchors to ensure that the cover does not slip. There is even an opening where you can attach a seat belt for extra security.
Waterproof & Easy To Clean
The cover is waterproof so no problem dealing with wet and mucky paws. And it's also very easy to clean the cover with a damp cloth to wipe it down or even use a vacuum.
Two Sizes
It comes in 2 sizes.
Large: W 57″ x L 60″ &  Extra Large: W 61″ x L 64″

---
.
What is a Dog Car Barrier?
A Dog car barrier is essentially a man-made barricade to prevent your dog from jumping into the passenger seat and causing a distraction while driving. Dog car barriers for standard motor vehicles are normally attached to the front seat headrests, others designed for use on SUVs are attached to the rear headrests the seat belt mount, or the car seat frame.
They all have the same purpose to prevent your dog from getting into the front seat while you are driving.
3 Main Types of Dog Car Barriers
Dog car barriers come in numerous formats from heavy-duty polymer netting, wire mesh with aluminum tubing & steel bars to hammock-style covers.
1. Netting/Mesh Barrier
Netting barriers are normally made from heavy-duty fabric or mesh. Many are tough and resistant to scratches and tears. They are usually attached to the front seat headrests.
2. Cages
They are normally made from steel and metal tubing. Some cages cover the entire section and are located behind the two front seats.
3. Hammock Style
Hammocks are placed in the back section of your car or SUV. They can completely cover this section and so protect the interior of the vehicle as well as act as a dog car barrier for access to the front section of your vehicle.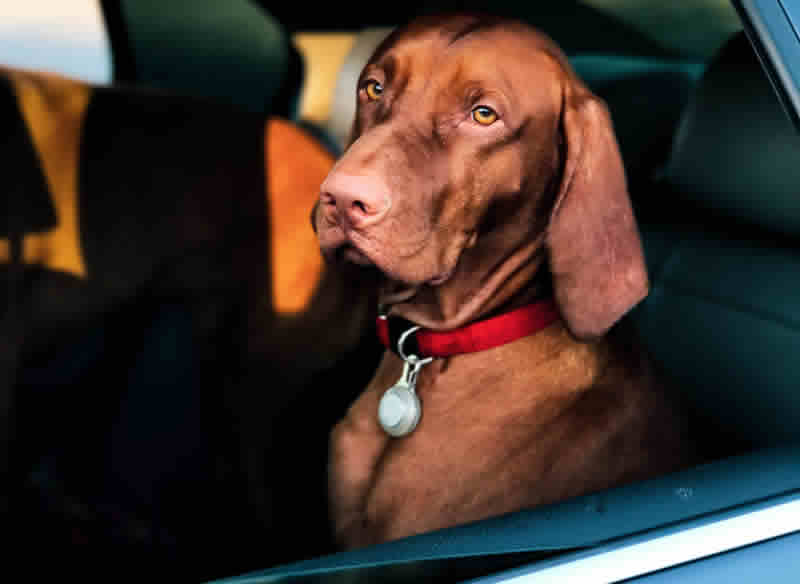 .
3 Main Benefits of A Dog Car Barrier
1. Safety
The main benefit of a dog car barrier is safety for you and your dog. The barrier restricts your dog and his movements to the back seat of your car or the back area of your SUV.
While driving your car or SUV your dog will no longer be able to do the following to distract you in the following ways:
Jump into your lap when driving. This especially applies to small breed dogs but I am sure that are some larger dogs out there who will try this stunt too.
Give the paw while you are in the middle of an awkward car maneuver such as parking your car.
Accidentally hit the blinker or step on the gear shift
Block the side window and thereby creating a blind spot.
2. Cleanliness
Confining your fur baby to the back seat or rear of the SUV means that the front section of your vehicle will be free of any dog hair and mucky paws and will also protect the dashboard and front interior from scrapes and scratches.
Indeed some back seat car covers can perform the function of a dog barrier. They also help preserve the fabric covering of your back seat from any scratches or scrapes from your dog's nails.
3. Calmer Dog
Some dogs can get very excited about car journeys. With a dog car barrier, your dog will be confined to the back passenger area or back of the SUV and it can become their safe space. Place their favorite blanket and toy there for reassurance and you will have a calmer more relaxed dog.
Buyers Guide For Dog Car Barriers
What To Consider
There are many different types of dog car barriers to suit your requirements. Some may be suitable for you and your fur baby and others may not. There are dog barriers that confine your dog to the cargo area while other barriers are used to separate the passenger and backseat areas.
Your choice of dog barrier may also depend on your dog's personality and if you own a Houdini escape artist or a dog who is very clingy and will not be separated from you then this is a behavior-related issue. I really don't think there is a dog car barrier that will keep you apart. A really anxious canine will turn into a climber or a jumper and will find a way.
If you decide to go with a dog car barrier you may need to train your dog that the front passenger area is a no-go area. You can't make any exceptions as otherwise it would send mixed messages and confuse your dog.
Make the area of the car where your dog will remain on car rides their safe and comfortable area by placing their favorite ty or blanket.
Other considerations include the following:
Does It Fit Your Car/SUV/Truck?
The first consideration in choosing a dog car barrier is whether it fits into your car. You may need to take out the measuring tape to check your car dimensions to make sure. Some barriers fit between the two front seats and attached to the front seat headrests while others go all the way up towards the interior ceiling of the vehicle.
Material Of Car Barrier
Another consideration is the type of material used for the dog car barrier. You want one that is durable and will last. If your dog is a chewer then perhaps a fabric netting would not be suitable or perhaps your dog is big and strong and will require strong metal bars.
Installation & Removal
Sometimes you may only want to use the dog car barrier on infrequent trips so you would need a barrier that is quick and easy to install and also take off when done. Or perhaps you want a more permanent barrier as your dog rides in your car frequently.
---
.
Conclusion
Our overall top pick for the best dog car barrier for dogs is the Dykeson Dog Car Net Barrier. There are no tools required to quickly and easily install this barrier. The netting is durable polyester and an extra-thick mesh design to keep your dog confined to the backseat area.
.
---